Je comence presque à apprécier les moments dans mon Moleskine. J'ai dit presque. Vouloir le terminer est une motivation comme une autre, n'est-ce pas ?
La page de cette semaine est venue d'elle-même. Je suis allée dans la direction dont j'avais besoin, car c'est ce qui fonctionne le mieux pour moi en général et une des raisons pour lesquelles je tiens un Art Journal. J'espère que vous allez voir que vous n'avez pas *besoin* de passer trois heures sur une page avec la moitié de votre stock de matériel pour créer une page qui a du sens pour vous tout en étant visuellement plutôt plaisante (mais c'est subjectif, bien entendu).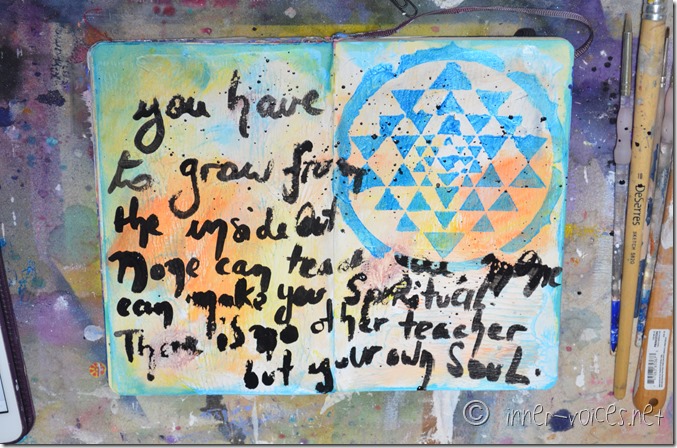 L'utilisation de l'applicateur avec mousse est vraiment chouette quand il s'agit de le faire avec un pochoir/masque. Cela couvre la surface facilement et rapidement, et peut être utilisé avec de la peinture comme avec de l'encre. Sachez que l'encre aura un résultat plus nette que la peinture car moins de risques de se glisser sous le pochoir, comme ce qui est arrivé ici.
La citation est de Swami Vivekananda, et dit:
You have to grow from the Inside Out. None can teach you, none can make you spiritual. There is no other teacher than your own Soul.
Voici la liste du matériel que j'ai utilisé pour cette page: