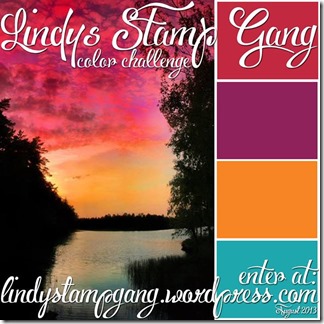 For this month color challenge over at Lindy Stamp Gang, I knew from the beginning I wanted to create a new logo for my Gratitude Friday blogposts. This project was on my mind for some time and I think this was the perfect opportunity !
I am so excited for you to soon discover the new colors of Startburst and Flat Fabios, you'll see me use them in this canvas so you have an idea of what they look like. They are all inspired by Alice in Wonderland. How cool ?
Remember that you don't have to use the all 4 colors to play in the challenge, just 2. However, because I loved the entire combo, I tried to find products that would fit them all. I listed at the end of the bottom of this post the supplies I used, with links to the different shops so it's easy for you.
The new Mad Hatter series is now available as a set, the entire line at a special price.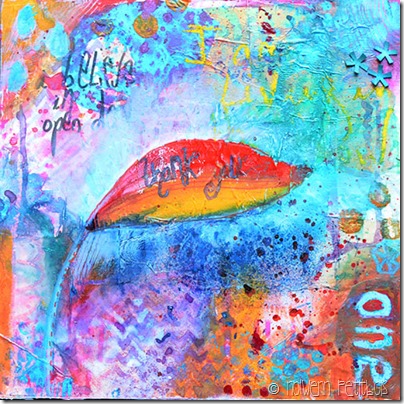 Wood stays my surface of choice, and I wanted to keep the square format, so I went with 12×12 so I still had plenty of room to play.
I began my painting session by setting the intention of expressing my Gratitude visually.
Right now, I am very inspired by India.Arie's new album called Songversation. There are plenty of beautiful songs, and you can see some of the lyrics appear on my canvas as I was listening to it while painting.
My first layer was made of Deli paper I printed with my Gelli Plate. They add texture and a lot of visual interest. This Gelli plate was really a good investment, and as you may have seen in a recent project I shared, you can use the Starburst Sprays on it for crazy good unexpected effects !
This painting is made of layers upon layers upon layers. Paint, Sprays, Magical Micas, oil pastels…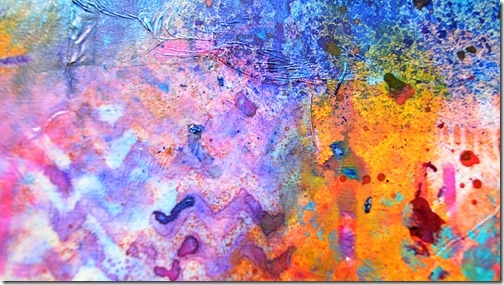 Mixing the Magical Mica with Glazing Liquid creates a beautiful shimmery paint that stays pretty much transparent. As the Micas are packed with color, it creates an unique two-toned glaze paint. This is what you see me doing with the Magenta Magnolia gold Magical.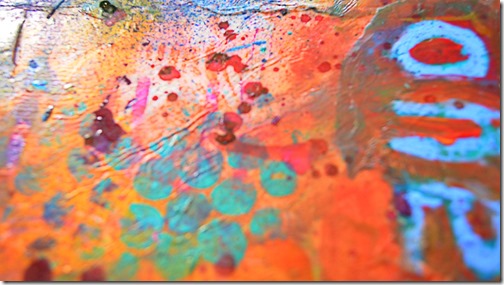 The Shots are amazing, and very versatile (will share more about them soon). But I think that right now, my favorite uses are: splatters (with a paintbrush, my Catalyst Blade, or simply my old toothbrush). Imagine shimmery splatters ? oh yea !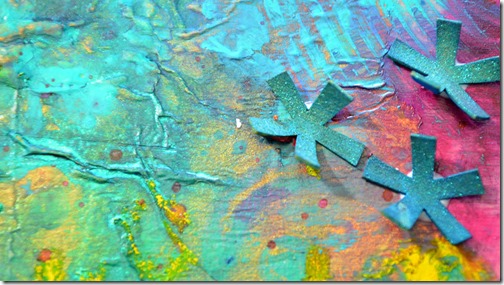 You will LOVE the new Cheshire Cat Cherry Starburst. It is such a gorgeous redish hot pink with blue shimmers. You know how everything teal or usually blue has my heart… and there, the blue and pink just make me swoon. Especially since Cheshire has blue in it.
Watch my process:
Here are the supplies I've used:
The exact colors of Magical Micas are:
Tibetan Poppy Teal (Autumn Leaves set)
Baby Blue Eyes Aqua  (Mayday Meadows set)
Magenta Magnolia Gold (Mayday Meadows set)
Screaming Banshee Black (Haunted Halloween set)
I really hope you will join us in this month challenge, can't wait to see your projects 🙂
You can check the official «rules» on our first Color Challenge blogpost: Color Challenge Infos.
Check out my team mates' project on today's blogpost.