Unforgettable books read in 2016
Last year, I signed myself up for Goodreads reading challenge. You set yourself a goal of how many books you wish to read during the year, and each time to finish a book, it adds up. At first, my reading goal for 2016 was 40 books. When I reached it, I increased it to 52 (why not ?) and ended up reading 58 books this year. 2016 reunited me with one of my first passion: reading. I won't write too much about how it helps me deal and cope (being in someone else's universe for a bit can do wonder on my mind). It is harder to choose just a handful of books to talk to you, because I read so many that had a big impact on me this year. I noticed an unexpected trend: lots of them were about loss, about friendship, about finding yourself and about redefining the "norm". I read plenty of Young Adult literature but enjoy adult fiction as well. Here are a few of my favorites (PS: the links direct you to amazon.com and are affiliate links):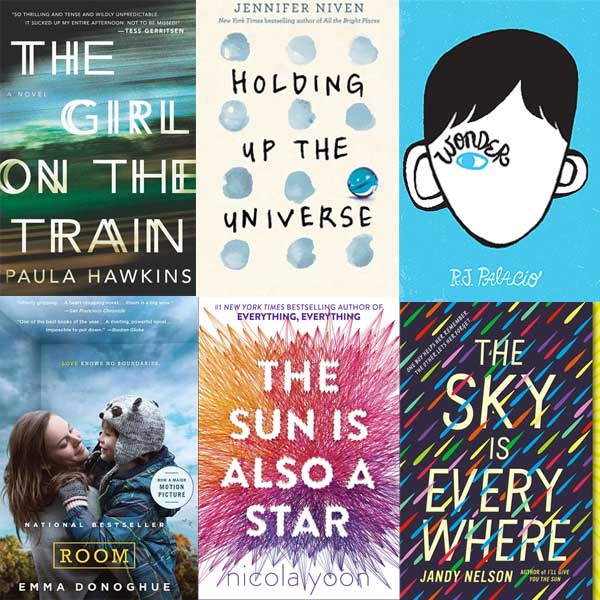 Rachel takes the same train, morning and night, everyday. She lost everything but keep going to London everyday, keeping pretense. Twice a day the train stops and allows Rachel to watch a couple on their deck; she imagined a life for them (she called them Jess and Jason). Until she sees Jess kissing another man… and soon after the news announce she is missing. Rachel gets herself tangled in the investigation. But is Jess alive ? what happened to her ?
I usually don't give in the hype but this book really intrigued me, to begin with. It is a novel told by multiple points of view throughout, which makes it even more effective in the story telling. We want Rachel to get her life back on track and to know what really happened to "Rachel". I got sucked in the story very easily and could not stop until the end.
Libby Strout used to be "America's fattest kid". To the point where she was homeschooled for years before deciding to come back to high school. She is still grieving her Mom and holding everything together with/for her father. She is ready to go back, make new friends and simply be a teenager. Jack is a popular kid that seems to have it all. But he is keeping a big secret: he can't recognize faces. Not even his family, close friends… or himself. They get to stick together at the school community service after an "incident" and learn to go beyond the obvious, beyond what people think you should do, who you should be.
This story touched me to the core. It is a story for teenagers/young adult but I do believe we all could be affected by the beauty in these characters. I remember feeling sad and pissed and worried. Yes, I felt all the feels.
Wonder | R.J. Palacio
August (Auggie) was born with a major facial deformity. Needing a lot of medical attention/interventions, he was homeschooled for all his life. But one day, he decided it was time for him to go to a regular school; he enters Beecher Prep for 5th grade. Being the new kid is already a hard thing, but when you do not look like anybody else, challenges are bigger. Can he make his classmates see him beyond his extraordinary face ?
My daughter Mae is actually the one who told me about this book last year because she wanted to read it for a school paper she had to do (pick a book, read it and then present it to the class orally). I like reading what she needs to read for school and this time, I was more than happy with this book. The author succeeded in sharing a touching story but still filled with humor. I really got attached to the character of Auggie, but also to his family (parents and older sister). To the point where I also read all the other books written around Auggie's universe.
Jack is just a little kid of 5 years old. For him, Room is his entire world. It is where he lives with his Mom (that he calls Ma). They play, they learn, and never go outside of Room. But at night, Jack has to be in the wardrobe when Old Nick visits Ma. However, Ma has a plan to break free. Will they succeed ? If yes, what then..?
This is maybe the most original novel I have read in 2016. Room is written from Jack's point of view, and Jack is only 5 years old. I have never read anything like this. Emma Donoghue is, to me, a genius writer with this book. A lot was already said about it, and I also watched the movie (with my husband who did not know the story). I prefered the book 😉
Natasha and Daniel are two very different teenagers. Natasha is pragmatic and believes in sciences and facts. She does not believe in fate, or in love at first sight. Daniel is the good son, doing what his parents expect from him. Both are from parents who immigrated for a better life. They meet in the crowded streets of New York city on a very important day for each of them. Natasha's family will be sent back to Jamaica in 12 hours and we share these 12 hours with them.
I think I can notice another trend in the books I have read and loved last year: stories told via multiple point of view. Being an immigrant myself, having "unrooted" my daughters when they did not have a voice yet to express if they agreed or not, this book struck a cord within me. Living up to your parents expectations, having to deal with your parents' decisions, and mistakes. Making your own choices. These are some of the themes that Nicola Yoon tackled in this very beautiful story.
Lennie is 17, she loves books and music. Playing the clarinet is her biggest passion. She adores her older sister Bailey, who seems to be her opposite. But then… Bailey dies unexpectedly, leaving Lennie's world completely shattered in million of pieces. Her family (she lives with her grandma and uncle) supports her as best as they can despite their own grief.  Lennie also experiences love for the first time and is torn between two boys who could not be more different from one another; one of them being her sister's boyfriend.
Another story about loss and grief. Family secrets, dealing with conflicting feelings (how to be happy when a close loved one isn't there anymore, is one of the theme), are some of the matters in this beautifully written book. It was a very poetic read. I laughed and cried, my heart ached along Lennie's and her family. Her passion for music made my heart beat faster. I found that Jandy Nelson was really accurate in how she portraited grief.
---
What are you currently reading ? Can you tell me more about the books that touched you in 2016 ? Have you read any of those ones I just told you about ?