I was watching Mindy Lacefiled's video for this month projet over her online class True Free Spirit. I love the music she uses as background, usually some songs by the duo Larkin Poe. I don't necessarily pay attention to what it actually says (and it's easy to turn my brain of because English is not my mother tongue) but this time, there is something that kept standing out: «Shadow of ourselves».
Inspiration often strikes when I don't expect it to be there, and this is what happened. It triggered memories, old feelings, new thoughts.
The wall I built over the years is cracking down, little piece by little piece. Letting people in, letting my Light out.
In the Shadow of herself
She feels safe,
hiding who she really is.
Look closer
If you want to uncover
the big Heart
and the willing Soul that were
in the Dark.

In the Shadow of herself
She comforts,
Soothes the deep wounds of her past.
She unfolds
all these stories that she built
to protect
the bright but tamed light she knew
was waiting.

In the Shadow of herself,
she broke,
caved in; not really sure
which path to go yet.
Full of Trust,
She discovered she could be
inspired.

In the Shadow of herself,
She notices
the old patterns that compose
the red thread
holding the key and answers
of questions
She only has the power
To unveil.

In the Shadow of herself,
She is Me.
Something then happened… The urge to sketch a Nixie, from an images that appeared last week during a meditation (when I can't sleep, I grab a clear quartz, either hold it or put it on my forehead, do a short visualization… and usually, I fall asleep quite quickly after that)
And then this is what I saw while this little «I badly need to fall asleep. now» session. I know the Nixie that appeared was actually me.
What's a girl to do when the Inner Voice gets pushy to sketch ? well… she sketches ;)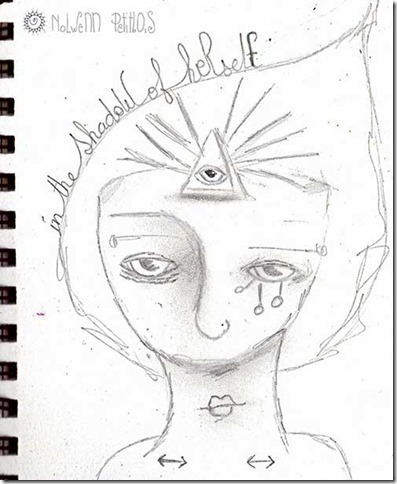 (I love Liz Lamoreux. And her sense of poetry in everything she does. This poem is inspired by her and a passage of her wonderful book «Inner Excavation»)
(and a dear thank you to Mindy Lacefield and my classmates gathered around her in all of her three classes I am a student of. it would not be the same without you)
I would love to understand how my creative flow works better. I am just now accepting to go with it, to create like a mad woman when I am sleeping, drinking, eating, breathing art and inspired all day and all night long (yes, it happens 90% of my time). But when the 10% strikes, I feel like an overused carpet. I feel like I am not my normal self. I feel bad and scared I won't be myself ever again...
...Here...
I quiet the negative voices in my head.
...Here...
I should always remember this moment: the paint on my hands.
...Here...
I learn to enjoy the «ahah» moment in the darkness.
...Here...
I thrive into kindness.
...Here...
I see the face emerging.
...Here...
I am being showered with simple happiness.
...Here...
I know there is more in the playing.
...Here...
I let the symbols being jotted down on the wood.
...Here...
I know it is all good...
So I went to the studio, pushed gently by kind hearted artists, and with the intention to release and welcome via my painting, continued to work on my painting, that became my first True Free Spirit Nixie: