Hello Beauties,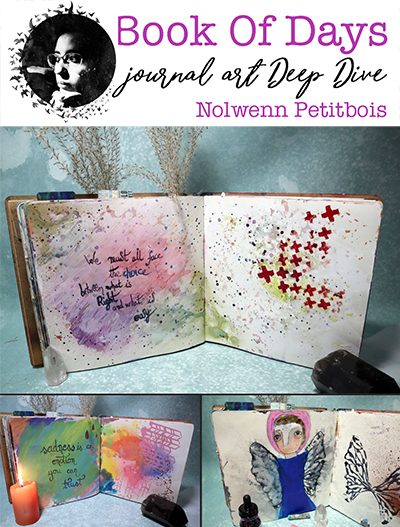 Long time no see, I know. But I am still here and I am coming today with an exciting announcement: I will have a guest lesson in the upcoming Book Of Days 2021!
I have been a teacher in this fantastic and inspiring art journaling class in the past. It is filled with a variety of artists, which is great as we all have a different view on why we use art journaling, how we do it and distinct styles as well.
In the past year, my creative practice took a really big toll. I stepped many many times into my ArtCave (the room space I have dedicated as a Studio. This is the best space I have had so far since I started making art regularly in 2009). I stared at all the beautiful supplies I had accumulated (supply hoarded in recovery here). At the art I love from fellow artists that inspire me to be better…. But I went back upstairs, not having touched anything.
It fills me with sadness but one of the thing that remained was my art journaling practice as a positive outlet.
Mark your calendar!
The registrations open on November 15th. AND I am hosting a giveaway on my Instagram account so you could win your spot.
It is happening right there!
Take a peak at the teachers' list & more