I love Mermaids. And as I am not one who believes in coincidences, my daughter Koala talking a lot about Mermaids, I started to see them absolutely everywhere.
I wish I could make them as beautifully as my Sister Mindy, who creates some really gorgeous ones.
I think it is tricky to make a Mermaid painting because it can be weird to have a floating character on the painting, if you see what I mean…
I had a great amount of joy playing with my supplies. Papers, embossing powders, oil pastels (the ones I talked recently about in the products I currently love), doily, glitters, gel medium, alcohol inks and shimmery Lindy Stamp Gang products. If I'm happy with the products I am using, then I know I will stay in that happy state of mind when creating.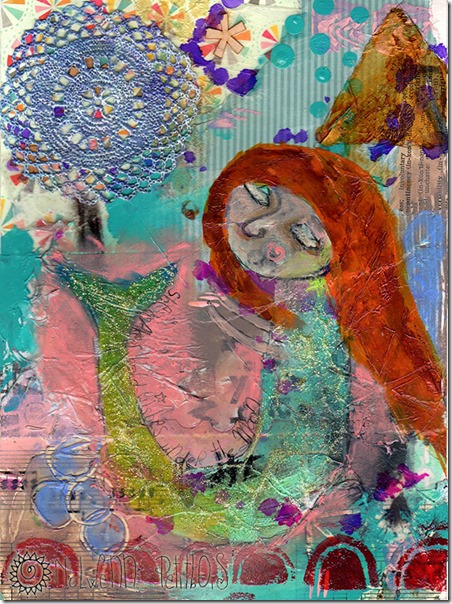 I believe in Atlantis. I've dreamt of it. Giant golden pyramids and Mermaids swimming around. Bells, Drums. Simple joy shared.
Meet Marina, she is one of these Atlantis' mermaid.
Her message: She makes bold wishes under the Moon.
►►► Print is available in the shop (click for details).