I am probably 100% sure that I have told you already in the past year how much I love India.Arie.
I remember precisely when I discovered her and her music: I was probably in late middle school or in high school, watching the music videos on MTV (yes, it was that time when it still was about the music, not about teen moms or other crap things) and it was a special about all her videos.
I saw her clip for her famous song «Video» which, let me tell you, is amazing (let listen and watch, you'll see). And then there was this song titled «Brown Skin» that wow-ed me for several reasons…
There is something about the Light this woman shines everywhere she goes. Something that talked to my Soul as soon as I saw her, on the screen of my TV, as a teen. Something saying «I am dark skin, I am who I am, I can «love myself unconditionally» anyway. And as I am was struggling to understand who I am, being from a Brown father and a White mother, but raised by her only in a White family, it was actually difficult to find my place…
There is something about the energy she shares. Strength. Gentleness. Confidence (but not to the point where is it becoming intimidating).
I love this song, and this video, of her duo with Akon. Because we need to be honest: us with Afro hair (but also you) are very much defined by it. And I am even planning a blogpost about it (ahah). Let me tell you, this song is fun but powerful.
Last year, she released a new album. After four years of silence. In this, she shares about her personal growth. She shares her Truth(s). And the result is a beautiful and inspiring set of songs.
Most of them always spark something when I listen to them while painting. A verse, an image, my own Truth(s).
As I was navigating through a very difficult creative rut last year, not seeing any light at the end of my tunnel, I heard «Break the Shell». I was in the midst of learning from Pixie Campbell in her class, Visual Quest. And this is what was born: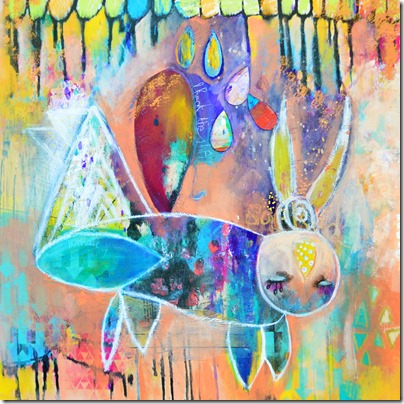 It may tell nothing to you, but everytime I do look at it *and it is hung in our bedroom), I am reminded of this: be true to you, get out of this shell so you can shine your light, never give up.
She said shadows make you whole
A life without pain is a wolf in sheep's clothes
Cause if you listen to the lessons that it holds
You'll find the gold
Child it's time to break the shell
Life's gonna hurt but it's meant to be felt
You cannot touch the sky from inside yourself
You cannot fly until you break the shell
Lately, I was creating along my darling Mindy Lacefield (yes, I do take my iPad with me in the Studio, and play workshops videos to create along ;)). And I was playing my India.Arie playlist because I felt the push to do so. And this Nixie appeared, with this beautiful message:
And because I feel like this is the best way to conclude how music can instantly lift us up, «Just do you»:
I heard a voice that told me I'm essential
How all my fears are limiting my potential
Said it's time to step into the light and
Use every bit of the power I have inside
So what'chu waiting on
Who You waiting for
If You don't take a chance You'll never know what's in store
Just Do You (Somebody's got to be a star)
Just Do You (Somebody's got to raise the bar)
Just Do You (Somebody's got to change the game)
Just Do You (Today)
Every mountain needs someone to climb it
Every ocean needs someone to dive in
Every dream needs someone to wish it
Every adventure needs someone to live it
(but please, the all song is… you'll see for yourself, listen to it all).
Right now, what is the singer you listen to and that inspires you the most ? please, do share in the comments 🙂