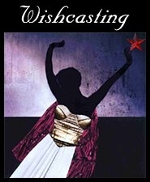 This week is all about new beginnings… so says Jamie 🙂
What do you wish to begin ?
The first thing that came into my mind was I wish to begin to trust. It seems simple said like this. But it's not.
By the way, I am working on it everyday. Letting go: fears, doubts etc. But they keep coming back and keep telling me these nasty things about me and what I do.
But when I am in a deep state of Trust, I can feel everything changing around and inside me.
Trust brings freedom. Trust brings light (in the heart and in the mind). Trust allows us to be ourselved and do what we feel inclined to do.
I wish I could be in this state of mind all the time. Without any breaks. I wish to trust myself, to trust the emotions I experience, to trust the messages and signs I receive.
Trust.
Trust.
Trust.