Hello !
You'll think I suck with my journals… you may be right, I don't know.
I've been working on this one here and there for a week (because I never had the possibility to focus on it more than 30mn each time). I love it but I am facing several issues, and one is kind of "serious".
This time, I wanted to try Teesha Moore's method (because I know her journals are awesome, right ?! ;-)). I've done several of her 16page journal made with only one sheet of paper (and if you didn't give this a try yet, go there. It's just easy peasy and really fast to make).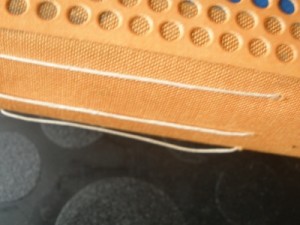 First, I realize thanks to this journal making process that I need to see the person creating to understand more easily. It's just a observation. Words and few illustrations are not enough for me. I had to read several time (lots of times I should stay, and to ask for confirmation of good understanding).
Second, I hate math. I am probably numb but it took me a while to figure out where to put my 6 holes on my 10inch guide.
Third, I have some small strength issues and it's very hard for me to pull the thread correctly. So it's too loose despite my efforts to keep it tight. My husband told me that next time, he'll help me (he's so sweet).
As you can see on the picture, my problem is simple: the book tape (which is self-adhesive, I bought it a while back online at Paper Source for Julie Prichard's awesome class about book binding) does not stick properly on my painted book board.
My brother-in-law suggested it's because of the paint. Personally I don't know. When I made a journal using painted masa paper, I didn't face the sticking problem. And because bookboard is quite thick, I can't sew the tape and the bookboard together as Rhomany does in her Cryptic Coptic Binding class (which add a beautiful finish look, by the way).
It's the same on the inside when I open the journal…
I tried to glue with PVA glue but it got messy and absolutely useless.
Did you experience the same ? How did you fix it ?
My husband and brother-in-law gave me some ideas, so for now I simply put some magic mesh over both covers. As it's very sticky, it's okay but I'm not sure it will last forever like this 🙁
Here are some pictures (but the front cover does not look finished to me yet):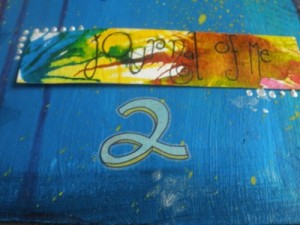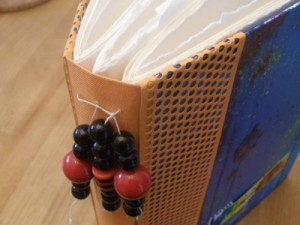 I love the dangly things on the spine. The beads are from an old broken necklace.
So it was a struggle to make for all the reasons I wrote but I enjoyed the process eventually and will just change some things next time to make it more suitable with what I can do.
Every suggestions for the sticky problem are, of course, welcome 🙂