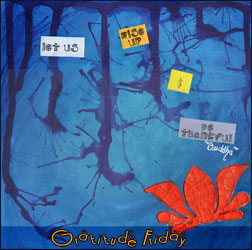 Gratitude Friday is a weekly ritual I started in order to focus on all the small and big positive things that happened during my week. I invite you to join me, you'll see how much being thankful can change your life. If you want to know more about it, read my introduction post.
Hello !
Here in Vancouver it is VERY cold (like -8°C) But the sky is a gorgeous blue. It is hard to believe we are Friday again… How was your week ?
This week, I am grateful because..:
The new computer my Husband and his colleagues built for me (they do not need a lot to be pleased). So OK this is not a powerful fancy expensive Mac computer but it suits my need very well. Ands editing videos is way easier now.
I went back to my Art Journal and made a few spreads. He is almost complete now. I can't wait to start a new one. And in a few I will have plenty to see and will be able to realize how things evolved since this day of July 2008 when it all began for me.
My new art journal video. It is totally imperfect but I like it a lot anyway. It was a quick and easy page to create and I learned along the way.
My mom stays strong in quitting smoking.
I am still losing weight. I will lose every single pound that I don't need on my body. I have Marianne Williamson's book and will give one copy away very soon so stay around.
I started my bigger to date canvas (30″x30″). And a stranger complimented me about it yesterday !
My first customer received the journal she ordered me and wrote me a very positive feedback.
We tried Brussels Sprouts again, with a recipe I saw on Giada Di Laurentiis' tv show. It was delicious !
I am having a LOT of fun trying binding techniques. I finished my first coptic journal (will talk about it later). And I found THE perfect book to learn from.
Wow this week's list was pretty long !
Do you believe March is knocking on our door already ? Soon we will celebrate Koala's 4th birthday yooohooo !
If you wrote your Gratitude Friday on your blog, don't forget to enter your NAME and URL below so I'm notified and can come to read you (you can also join by commenting this post):
[linkme]