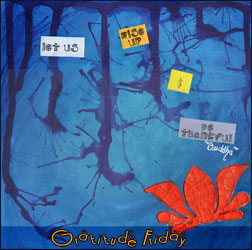 Gratitude Friday is a weekly ritual I started in order to focus on all the small and big positive things that happened during my week. I invite you to join me, you'll see how much being thankful can change your life. If you want to know more about it, read my introduction post.
Good morning !
This is this day of the week again, when we think of  these things that put a smile on our pretty face and when we chase away the blackish thoughts swirling around. Concentrating on what the beautiful positive moments the Universe showers us with is why I like friday so much.
This week was very trying and I feel exhausted, however..:
Thank you for the sun shining today. Wakin up with sunrays peaking through the blinds just announced me that today will be a great one. Days are getting longer, spring is coming and I really need this.
My perseverance while editing my latest video was a good thing. It was a pain in the *** to do because of computer issues and took me ten times more than it should have. But I like the result !
I am thankful for the first order I received, and honoured. A customed journal was sent yesterday for its new home in New Jersey and then Bordeaux.
My friend Anu's presence despite her own life, she is there for me everyday and helps me a lot. She is priceless in my daily life.
My Husband is always by my side, listening even when the words do not come out of my mouth. He listens and deals with my silence. And my tears.
Writing this blogposts makes my heart sings.
I am waiting for new books today, and what would I be without my books ?
Grenouille is at a circus school for the day, with the afterschool service -pedagogic day so they don't have school-. She will have fun for sure !
Koala is a lot into learning how to write lately. So I try to follow and help her the best I can.
My mom is at day 3 without smoking, I am very very proud. I know she can quit definitely.
Oh and a picture for the road… Yeasterday I spent time doing and glueing small "patches" for my Glimmer Mists and Lindy Stamp Gang products caps, so it is way easier to pick a colour. My fingers are still rainbow-y from it 😉
If you wrote your Gratitude Friday on your blog, don't forget to enter your NAME and URL below so I'm notified and can come to read you (you can also join by commenting this post):
[linkme]