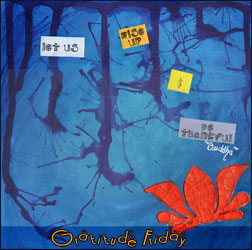 Gratitude Friday is a weekly ritual I started in order to focus on all the small and big positive things that happened during my week. I invite you to join me, you'll see how much being thankful can change your life. If you want to know more about it, read my introduction post.
Hello !
My internet connection is acting weird today, so I have to do it fast and I apologize for it. We are switching provider tomorrow, hoping it will resolve the too frequent issues we have.
I am currently feeling forgotten, even if I know it is part of grown-up life, that people do have their own stuff to do. Especially when they are in France with 9 hours of time difference. I am not bitter or angry about it though, just sad.
This weel, I am thankful for:
The happiness of my friend Aliénor. It is contagious.
The positive feedback from lateste customer.
The journal I finished yesterday. I love love love it. Will be listed later today.
We finally got hot water back, this morning hot shower was a blessing. And it seems that it fixed our heating issue at the same time !
I created a foodie blog after long hesitations. I used to be a foodie blogger back in France but stopped without further notice. It is right there: Yummylicious.
I am happy today is Friday, it is payday for my husband, and I won't have to get up early (even if I never ever sleep in…). I am exhausted.
Reading people's participations to this friday ritual (don't be shy and put your link right below so I can find you easily).
If you wrote your Gratitude Friday on your blog, don't forget to enter your NAME and URL below so I'm notified and can come to read you (you can also join by commenting this post):
[linkme]