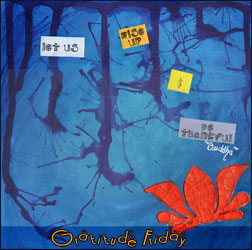 Gratitude Friday is a weekly ritual I started in order to focus on all the small and big positive things that happened during my week. I invite you to join me, you'll see how much being thankful can change your life. If you want to know more about it, read my introduction post.
Hello !
It's almost 11am, nearly time to go pick up Koala from preschool, Grenouille was with me this morning has teachers at her school are having their «educative day» or whatever it is called. I am ready for Koala to go to kindergarten, and so she is. I laughed when my husband told me out of nowhere «if we have a third kid someday, s/he has to be born after june, would be easier when school time will come» mwahah
This week is quite good in general.
This week, I am thankful for:
My Practical Reiki class, at the Reiki Awakening Academy. I learn in a fantastic atmosphere and there is always someone, my teacher as well as my classmates, to answer my weird questions. I do feel the energy and I am over the moon to be able to help people with it now. I have amazing feedbacks, it adds to my gut feeling that I did the right choice and it was the best for me.
Thanks to it, I am now doing daily self-healing and it helps with my general pain level. I am still exhausted but I learn to deal with it.
The moments where my friends and I kind of yell at each other (luckily there is computer screens to seperate sometimes lol) teaching me not to ask to much, to be more accepting (with them and with me).
This new thing in my creative process makes me enjoy it even more (I really have to spill the beans and let the words out so you could finally know what I am talking about)
My Cocotte (my BFF) and all the great musical discoveries I do thanks to her. This week, it is the singer Imany.
Again and again the love (and stupid humour) of my Cheridoo, and our Trollettes.
Schools of the Trollettes.
The very nice email I received from a reader.
Conversations I have with other artists, very successful artists I admire.
My new «diet»
Japanese cooking.
ZenaMoon's candles.
I listed one of my original painting and some other prints in my Etsy shop. July is one of them, I will present her to you very soon
I began snapping selfportraits again.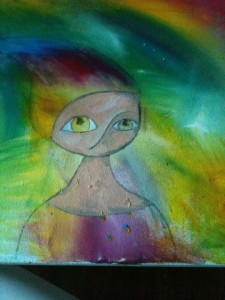 July, while she was still being created.
If you wrote your Gratitude Friday on your blog, don't forget to enter your NAME and URL below so I'm notified and can come to read you (you can also join by commenting this post):
[linkme]