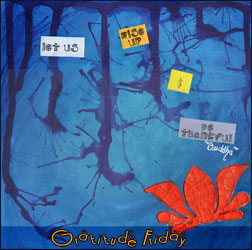 Gratitude Friday is a weekly ritual I started in order to focus on all the small and big positive things that happened during my week. I invite you to join me, you'll see how much being thankful can change your life. If you want to know more about it, read my introduction post.
Hello !
I did not post as much as I wanted to this week, it has not been as wonderful as I wished it would have been. Sometimes, you just can't control everything and go with what happens, even if it does not make you happy at heart.
But for today, I want to look back a bit and find 26 things I am thankful for in my life, right now. In no specific order (the numbers are just there to help me know when I reach 26 ;)).
I am 26 years old, I married my SoulMate at 19, pregnant with our first sunshiny soul (the wedding was planned before the pregnancy, just saying). Today, we are a family of four, and we stand for each other with love and care. My tribe.
My mom is an amazing mom. Even if I did not always understand her choices, I know she did her best to raise me, alone.
I live in Canada, and it was my dream since I was… 14 or so.
After several trials in different jobs and time learning (psychology, cooking, english, FSL…) I know today that my path is linked with creativity and healing. And with teaching somehow. I learn the hard way but I am getting there.
My husband introduced me to japanese food when we met and it was love at first sight. And since we live in Canada, I really enjoy cooking it, learning it even more. It became my comfort food.
Some amazing people crossed my road, Soul Sisters and Soul Brothers… Sophie, Cocotte, Anu, Melchi, Aurore, Paola, Maïlys, Alice, Connie… linked by this weird thing I can't define but that is definately there.
The music that rock(ed) my world and tell my life.
My mom's open mind that allowed me, despite the Christian education she gave me, to wander around different things and beliefs. Buddhism. Paganism. Witchcraft.
Artists that share their work, their process, their struggles. Making me feel like I am not that weird.
The people that came and went in my life. Leaving me wounded and hurt. It made me stronger, and help me see myself in different perspectives.
I am currently learning Reiki so I can help people and my teacher and classmates are amazing (you can ask me more infos if you want).
I am learning so much through mama-hood. Even in the struggles and the "why the heck have I wanted to be a mom ???" moments. My girls are just fantastic. And my guts tell me that it will get better as they grow up. Love is what binds us so strongly.
My body is teaching me a lot. To accept I am not perfect. To slow down. To see myself differently.
Creating art videos makes me very happy. Even when no one comment to tell me what they think of it.
Books. They allow me to escape. They teach me. They make me think. They make me dream.
I realize that I love taking pictures, documenting my life. Our life. I may want to try scrapbooking so we would have beautiful traces of our memories. Even the little ones. I want to learn more about photography.
I feel so blessed to have been given this possibility to share the positive messages I receive through my artwork and I really hope I will find the way to touch more and more people somehow.
I publish this as is and will come back to it later with the nine other facts 🙂
WIshing you an amazing week-end (welcomed here after a really crazy week !).
If you wrote your Gratitude Friday on your blog, don't forget to enter your NAME and URL below so I'm notified and can come to read you (you can also join by commenting this post):
[linkme]