Hello !
I know it has been quite a long time since I shared with you an In Motion video (either Art Journaling or Mixed Media related). I have faced many technical difficultied in the last month or so, and several videos had to be aborted during the process. I meant they were just not meant to be.
I am a tidbit nervous to share this painting with you. Because it is like nothing else I've created before, but I still feel like this is me. I have no idea what this creature is. Nor why I used these specific symbols at the end.
I had a lot of fun playing with texture and love the result. Ready ? Here it is..: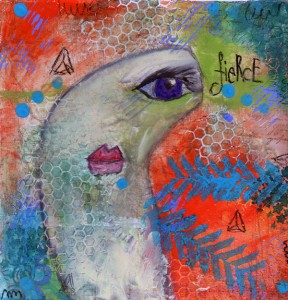 You may know how much I love using stencils, and to date my favorites are made by the company The Crafter's Workshop, and I just swoon over those designed by Julie Fei-Fan Balzer (totally fangirling her, yea…). And I have the chance to have discovered a fantastic local scrapbook store that accept to special order stuff for me, the nonscrapbookerbutveryloyal customer 🙂
I think that I became more Fearless in my creativity thanks to Connie, and I will never thank enough for her class BIG that changed everything for me. Before, my creative process involved the search of perfection, intensive planning of what would the artwork will look like (and of course, this bad feeling when it never did look like what I had in mind). But since her class, I found how to free myself from all those high expectations I use to have. Not that I don't care, I still do, but I am enjoying the ride, involving all the ups and downs of creativity.
I feel like I was in a kind of transe while doing this painting, even if it was recording, because the creature that emerge stroke me only when the painting was done, the camcorder off. What IS that ?!?
And of course, an army of Gremlins decided to show off: «you are crazy» «this thing does not look like anything» «people will think you are not normal» blablablablaaaaaaaaaaa
I got scared to share this painting, and her video. But decided to shake the Fear off and do it anyway. So here it is:

I hope you enjoyed it 🙂