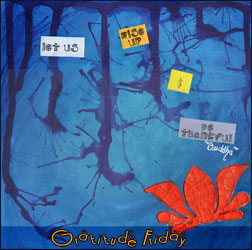 Gratitude Friday is a weekly ritual I started in order to focus on all the small and big positive things that happened during my week. I invite you to join me, you'll see how much being thankful can change your life. If you want to know more about it, read my introduction post.
Hello !
I'll be honest with you, I am beyond exhausted. Not even because I ran in the cold or worked out. I'm just worn out and have to deal with it. I did not really know if I wanted to write this Gratitude Friday, as I write it in both english and french, it asks twice the energy.
I am apologizing, again, for doing it short. Hoping you won't mind and will enjoy it as well, and that it may inspire you to reflect on your week and what was good in it.
This week, I am thankful for:
The unexpected features of the Nixies that were born this week.
CHA (Craft And Hobby, it is a huge show that happens twice a year in the US, where companies share their new products. It is opened both for the public and for professionals) is around the corner, and so the web is filled with sneak peaks. I love the new stencils coming from The Crafter's Workshop designed by Julie Fei-Fan Balzer (and some other of their releases); the stamps and other products by Christy Tomlinson, some of the new stamps and ideology stuff by Tim Holtz, lines from Studio Calico… It is very inspiring.
I received the beautiful mixed media portrait of me made by Joyce. Amazing !
I started my Project Us, inspired by the famous Project Life. But I am not a scrapbooker. I still enjoy it a lot and I just love documenting our daily life in picture. Would love to have a pogo printer or other ZINK printer so I could have the pictures from my phone and camera printed quickly at home. Maybe later.
I realized that small dreams are as good as the big ones. And feel more reachable for me at the moment.
Vivian is now offering her «old» art journaling class for free. I took it in 2009, freshly arrived in Canada from France. You'll love it.
I almost have 300 «likers» over Inner Voices page. It just a number, but I like it.
Grenouille lost her second teeth yesterday, which put her over the moon excited.
I am carving stamps thanks to Julie's class. Love it !
I finally found a way to create my portfolio ! See the link in the horizontal bar. Or click here to see my mixed media gallery (not everything is in it). I'll do an Art Journal gallery asap.
If you wrote your Gratitude Friday on your blog, don't forget to enter your NAME and URL below so I'm notified and can come to read you (you can also join by commenting this post):
[linkme]