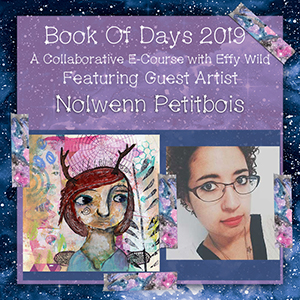 I am so pleased to announce that I have been picked to be a guest teacher in this amazing online class, Book Of Days.
I will take you with me in my home studio, lovingly called my ArtCave. I will share with you my entire process when it comes to working in my Art Journal. It differs a little bit from the process of working on canvas because my intentions are often different.
Here is what Effy says about it:
Book Of Days 2019 is a year-long e-course by Effy Wild which will feature 13 'all-star' journal art teachers and at least 12 'rising star' bonus teachers. This course is designed to immerse you in art journaling with new content going live at the beginning of each and every month throughout the year, including full-length video tutorials by Effy and her all-stars, bonus content by Effy's rising stars, interviews, journal prompts, live virtual gatherings and monthly vlogs. Along with more content than you'll ever need to sustain your own creative practice, you will be enfolded in a community of gorgeous, wildly creative, supportive journal artists who make building and maintaining a creative practice one of their priorities. Join us with instant access to introductory content beginning November 1st. Class begins in earnest on January 1st.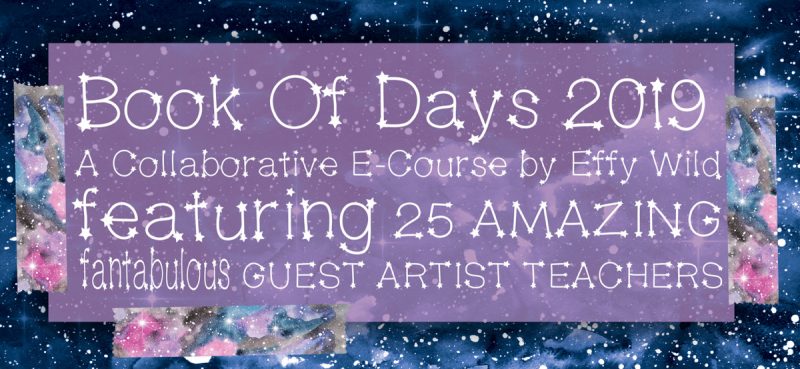 This class is perfect for every level: either you already play in your art journal or if you are itching to give it a try but you've been intimidated by the blank page. All throughout 2019, you will be taken on a journey by us so you gain confidence on your own.
The early bird price is of 99$ USD until December 31st 2018, before going up to its full price of 120$ USD.
Time for the giveaway!
The good news is that I have ONE spot to giveaway to one of you. It's easy: leave me a comment here, telling me a little about your love for art journaling. Bonus points if you share this blog post in your social media (tag me so I can add you in the raffle). I will close it on October 31st at midnight.
Good luck !