Oh my ! Today is the day… I am leaving in a few hours to attend my first creative retreat, Sugar & Spice.
I'm tagging along Nancy, who found me a few months ago via the Facebook page of the event… We discovered we actually live two blocks apart from each other (talk to me about crazy coincidences). We will drive all the way across the border and even take the ferry (another first for me).
A good thing: she knows PT very well as she attended Atrfest several times.
It will be weird to be on my own at night (next time, I hope Lynda will be my roommate ;D).
My daughters told me they don't really want me to go (Grenouille is crying this morning. Breaking my heart), but I know they will do well with their dad and my Mom.
Cheridoo will join me at the end of the week so we will have some time in the morning to be together before going back home.
I will only have my iPad until my husband arrives, and it doesn't have 3G, so i will do my best to document.
I want to experience it to the fullest.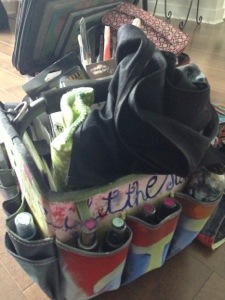 I'm so excited to finally meet Mindy, Danielle and Juliette. People, everything happens when ripe. (Another Truthism).
Excitement.
Nervousness.
Sense of purpose.
As Bilbo the hobbit, I am going on an adventure !
Psss: This little guy was hidden in my suitcase by my husband (long story short, he used to put some of his fragrance on one for me when we started dating).