I won't lie: I am a little (lot) nervous to share this new video with you. This is nothing like I have shared in the past so I hope you will still enjoy these 4+ minutes with me 🙂 If I have learned something in my decade of blogging, it is that what I fear the most is what is needed to be shared. So here we go!

2019 has been a really tough year for my mental health. Because I have been struggling and I am seeing the same shit around me, I believe it is an important subject and that I need to be honest with myself, and therefore with you. I am learning that it's okay not to be okay. That I need to pull the different layers I have been accumulating for decades in order to finally be my self. Unapologetically.
Don't lose who you are
Fighting depression while fighting other health challenges has been tough. However, I know it could be worst. Knowing does not always help though, does it? It is like saying to your child "eat all the food on your plate, there are millions of starving children in Africa" you know: it is true, but it does no good in the issue. Did you know that as a teen and a young adult, I wanted to become a psychoanalyst? The human psyche is a maze I have always wanted to dismantle and understand better. Mine included. This is why I keep a written journal. I have been since I was around 7 years old. Yes, there is sometimes a huge gap between my entries. I learn to let go of this guilt and to continue anyway. Self-portraiture, but also getting my hands moving and creating something (whatever it is) is one of my way of getting out of my own way. Putting this video together challenged me like no other so far; this is something I am truly passionate about and I hope you will take something out of it. Maybe you will consider seeing a therapist or at least talking to someone. I struggle with self-harm and with eating disorders; admitting this is a huge step forward for me. But I know this is not all that defines me, and that's essential for me to remember that in order to move on properly. I am not my circumstances.

About this Nixie, Elizabeth (alias Biz)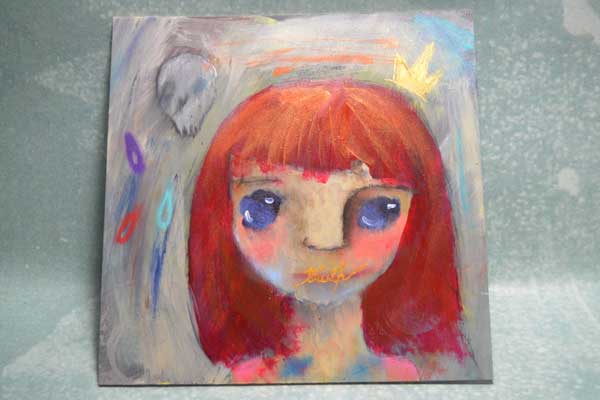 As I was planning the making of this video, I stepped into my ArtCave. I decided to dedicate a Nixie to it. I smudged and prayed, I asked my Guides to let a Nixie come to life. It was not easy to commit to it because I noticed I tend to fly from confrontation. Yes, even personal internal confrontations (silly!). But there is some power and some magic that can happen when you just open yourself to whatever you need to create…
PS: If you want, I can share the creation of Biz, the Nixie you see me create in this video, in a separate video.