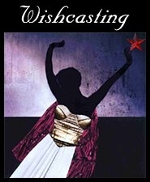 This is my first official Wishcasting Wednesday of 2011. Shame on me. But to my defense, I usually answer Jamie's prompt in my head or in my written journal.
And I am publishing a day late as I prefered painting that being on the computer yesterday.
Focus Focus Focus. This is a big part of my daily life as I have very hard time to focus. On anything. I am always doing several tasks at the same time, because my mind gets bored, or I think of something else and it just can't wait (unless I will forget).
I wish to focus on my creative business as it seems I have abandonned it a bit during the last few weeks, trying to create perfect stuff I am never satisfied of (and that never ends in the shop).
I wish to focus on Love and what I actually have. Because I have way more than I think (not speaking of material stuff there).
I wish to focus on my health. Continue eating better, starting working out again regularly and not two days and then giving it up for fake reasons. I lost 3 pounds, a lot more to go. But i know now I can achieve it with steadily perseverence (can we say that ? lol).
I wish to focus on the process more than on the final artwork. To simply have fun, enjoy, experiment, discover.