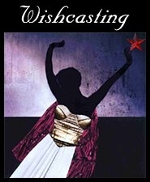 It's a little bit late but I really wanted to participate in today's Jamie prompt.
2011 is now really around the corner; it's difficult to think about it without thinking of the achievements and deceptions of 2010. But it'll be the subject of another blogpost.
What is my wish for the New year ?
I have several ones in mind, as you can guess 😉 One of the bigger is to touch the heart of the most people possible with my artwork; to pass the messages I believe are important to be known. In parallel, I wish to finish the writing and editing of my book.
In a totally different level, I wish that we earn enough money in 2011 to buy a home.
And also I wish that 2011 reinforce friendships and maybe bring some new ones my way, to allow me to stand for what I do and who I am. May this new year bring trust, serenity and patience. Not forgetting laughters, bonding with my kids and husband, Magic, creativity of course, well-being in my mind as in my body (ouch). Abundance in every area of my life; because I know I can receive it all as long as I always give back in a way or another.
Yes I know, it seems a lot.
And what about you ? What do you wish for the New Year ?