Welcome to the MASSIVE Imaginarium Designs and Lindy's Stamp Gang Blog Hop!
We are so excited to have the team at Lindy's team up for a full day of creativity.
This hop will surely get your creative juices flowing so head on over to all these incredibly talented crafters to check out how they've combined the beautiful products from Lindy's Stamp Gang with Imaginarium Designs fabulous chipboard, it's a match made in color heaven!
We have a great prize for you too!
We would love for you to show some love to all our crafters and leave them a little message
You will have the opportunity to win a fabulous prize by both ID and Lindy's Stamp Gang so please let us know that you have done so by coming back to Lindy's Stamp Gang & ID blog at the end of the hop.
Cards for Project Life
I am doing Project Life again this year and I'm trying a new process. What I love about it is that I can create my own cards to include and not use only the official ones.
I started with two 6×4″ Gelli Printed cardstock I made earlier (video to come next week). Then, I splattered with some Starburst Color Shots (Tibetan Poppy Teal, Ramblin' Rose Pink and Sweet Violet Purple Teal). It adds this shimmery plus that makes all the difference.
Then I worked on the chipboard pieces from Imaginarium.
I embossed the Sisters piece with Midnight Sapphire (from the Mad Hatter set) and Cosmic Pink Blue (from the Sweet Treats set). The blue shimmer with the baby pink rose makes both color go perfectly together (in my opinion).
For the butterflies, I cut the border to have it the right size for my card. Then I thinly applied Super Heavy Gesso with a palette knife so it 1)adds a beautiful texture 2)make my color pops even more. Once dry, I sprayed with Yellow Rose Of Texas, Canna Lily Burnt Orange and Edelweiss Moss Green. It is the perfect trio to contrast with the blue of my card.
I glued both with transparent craft glue.
Here is what they look like in my Project Life album once inserted:
Sketchbook Cover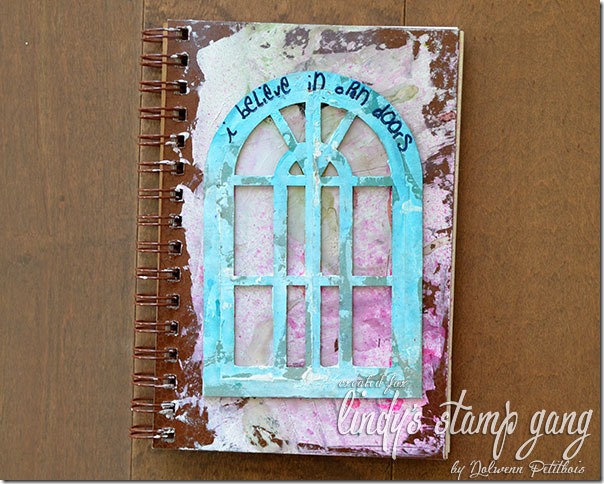 I started by applying a thin coat of Super Heavy Gesso on both the sketchbook cover itself, and the window chipboard.
Once dry, I sprayed Edelweiss Moss Green and Cheshire Cat Cherry on the cover, and Baby Blue Eyes Aqua + Tibetan Poppy Teal on the door.
I wrote my mantra with an Embossing Pen and applied Midnight Sapphire embossing powder.
I wanted to keep it simple so did not do more on it.
As for the cards, I glued the chipboard to my cover with transparent craft glue.
Please, check every one of us and our project for this amazing hop:
Amy Voorthuis – http://www.amyvoorthuis.blogspot.ca
Denise Boddey – http://passionscrapping.blogspot.com.au
Evgenia Sokolinskaya – http://eva-inspiration.blogspot.ru
Ingrid Gooyer – http://www.ingridgooyer.blogspot.ca
Kaori Fujimoto – http://scrapgarden-kao.blogspot.ca
Karen Zueger – http://lostcoastscrapper.blogspot.ca
Louise Nelson – http://louise-justloolabelle.blogspot.ca
Sandrine Dawesn http://sandrinedawes10.blogspot.com.au
Maiko Miwa – http://shiny-scrap.blogspot.ca
Natalie May – http://happydaks.blogspot.ca
Julianne McKenna-De Lumen – http://julestheblingprincess.blogspot.ca
Patricia Basson – http://patriciabasson.blogspot.ca
Sarah Routledge – http://sarahs-scrapbook.blogspot.ca
Shell Carman – http://www.anotherscrappyday.blogspot.com.au
Solange Marques – http://solangescrap.blogspot.ca
Cindy – http://cynthialoowho.wordpress.com/
Nolwenn – https://inner-voices.net
Ivett – http://www.ivettcarrillo.blogspot.com
Irina – http://irinagerschuk.blogspot.com/
Lynne – http://www.mymadkow.typepad.com/
Mary- http://damselofdistress.blogspot.com/
Limor – http://chicscrapbookdesigns.blogspot.ca
Lindy's Stamp Gang – http://lindystampgang.wordpress.com