Welcome to LSG & 7 Dots Studio Creative hop! We are so excited to have to amazing companies team up for a full day of creativity. This hop will surely get your creative juices flowing so head on over to all these incredibly talented crafters to check out how they've combined the beautiful lines by 7 Dots Studio with Lindy's Stamp Gang products, it's a match made in color heaven!
We have a little surprise for you:
We would love for you to show some love to all our crafters and leave them a little message. You will have the opportunity to win a fabulous prize by both 7 Dots Studio and Lindy's Stamp Gang so please let us know that you have done so by coming back to 7 Dots Studio and Lindy's Stamp Gang blog at the end of the hop.
I love 7 dots studio, brand that I discovered through the amazingly talented Anna Dabrowska (aka Finnabair). The lines are so gorgeous that, to be totally honest with you, it is a bit intimidating to work with for me as I tend to cover up most of my paper layers in my creative process.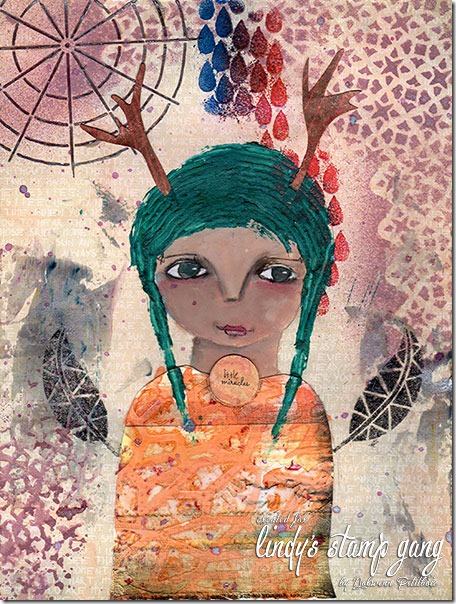 I started by tearing the beautiful Messy Head paper to 9×12", I love ragged edges. Then, I mixed some Gab Me With A Spoon Gray Magical Mica with soft glossy gel medium to create a wonderful shimmery paste, that I simply applied with one of my Catalyst wedge here and there (it was helping me to overcome the «blank page» syndrom). I also used it for the top left corner.
I love love love the new dusty rose color, Bodalicious Blush, and sprayed it through a stencil as well.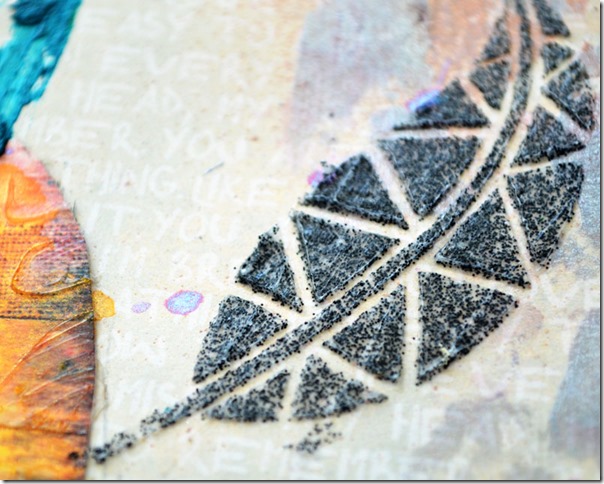 Gel media and our LSG products love each other, proof is I used heavy gel with our Midnight Rendezvous Raven glitters (still from Totally 80's) to stencil through and create her leafy wings; and then again with another stencil that I sprayed, once dry, with Icy Primrose Gold (a discontinued color) *the ink goes in the cracks and creates natural contrast*.
I used Fiber paste mixed with Time Travel Teal Magical Mica to create a great texture for her hair. It stayed so vibrant even once dry.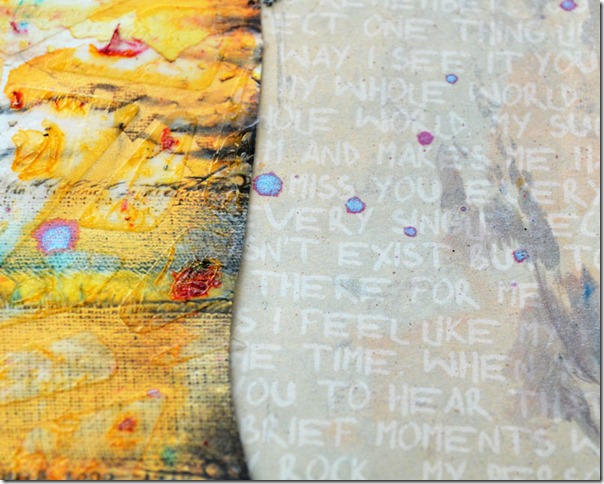 The short sentences on this paper are great, you don't necessarily see them at first but they are here.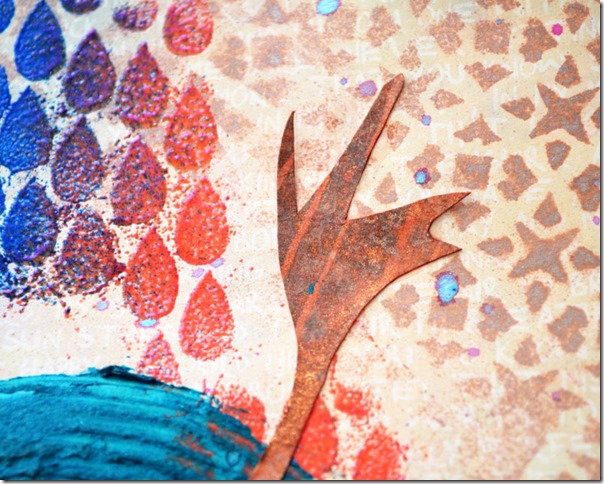 I embossed the drops with Pumpkin Fiesta and Hydrangea Blue Mauve embossing powders, I did want the overlapping of the two colors so it was totally made on purpose.
Her antlers were cut out from the What Wood U Say paper, and then sprayed with Cowabunga Copper before being glued.
For her dress, I used the Sweet Dreams paper from the Dreamer collection. The fabric and colors were perfect for a dress. I did not want it to lay flat on top of the rest so I applied gel medium through a stencil, and to make it pop just a little more, sprayed with a golden Starburst Spray (as said earlier).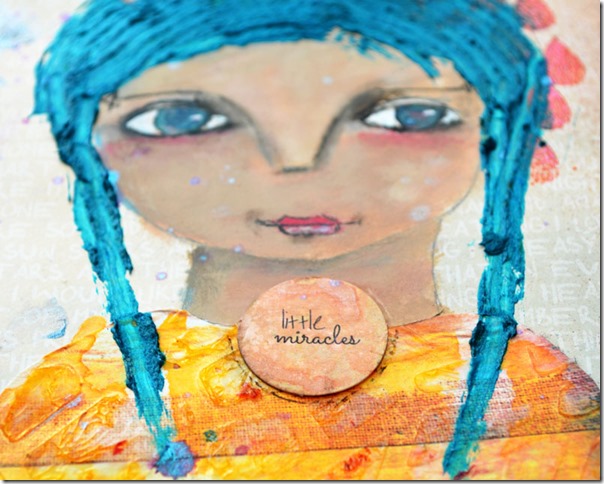 Her messages, Little Miracles, comes from the Messy Head Elements. I simply sprayed it with Cape Cod Coral and glued it where it seemed important.
I used Frolic In The Forest Green Magical Mica (from the Tickle Me Fancy set) for her eyes. And last but not least, I splattered the amazingly unique Sweet Violet Purple Teal as a final touch.
Here is a full list if you get lost along the way, have fun!: