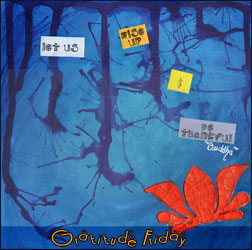 Gratitude Friday is a weekly ritual I started in order to focus on all the small and big positive things that happened during my week. I invite you to join me, you'll see how much being thankful can change your life. If you want to know more about it, read my introduction post.
Happy Friday (well… it's Sunday now, because I forgot to schedule it to post without me having to think about it. And our Saturday was filled with 0 computer time. Oops) !
I won't lie: I am pretty happy that it is finally the week-end. My husband has his Friday off from work, which means we're spending these three days together and this is something really priceless to me.
I've been in an introspection mode lately, trying to figure out where I wanna go in my creative career (it is was to the point where I was wondering if I really was an artist or not. yup. that kind of hole…). Trying to define my Faith (and my conclusion is: I don't belong to any box, and I accept that now. I appreciate having a bendable Faith).
There is a lot to be thankful for, but I will go to what comes in my mind as I'm writing this here. This week, I am thankful for:
My daughters playing outside. With or without our neighbors' kids.
Spring break coming to an end (as much as I love them, we are all happy school is starting again soon).
Facetime on my iPad mini.
Having finally started our Family Painting.
Having my Mom on the phone.
Cooking as a family. Thank you for the best kitchen we've ever had to date.
Sunshine.
Netflix.
Decluttering. Organizing.
j-10 before my Mom arrives from France.
Honesty. Trust. Confidence.
Deepening my knowledge.
Healing the Past to assure a better Future and a fantastic Present.
I wish to all of you who are celebrating a happy Holiday time.
A few pics of my week:
If you wrote your Gratitude Friday on your blog, don't forget to enter your NAME and URL below so I'm notified and can come to read you (you can also join by commenting this post):
[linkme]