Hey there ! I know it's been a few weeks since my last Project Life Monday blogpost. I am «behind» in my album and so I had nothing to share with you yet. But that's okay. I learn along the way not to feel any guilt for not doing it every single week. Sometimes, I just have nothing to record. I am also learning that it is ok not to complete two pages a week, and that the most important is to have photos and journaling now and then.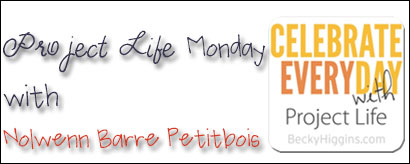 I touch up almost all our photos before printing them (this is when I tell myself «girl, you really need to learn more about using your DSLR camera !»). I love using actions, and lately I've been using RadLab.
I always loved playing in Photoshop. Always. You may not know, but you can also do your Project Life digitally, with the digital versions of the products you would use in a real album, now via ACdigitals.com (American Crafts and Becky Higgins partnered officially a few months ago).
I am sharing the two pages I've done so far, so you can have an idea. I really had fun making them. And yes, I will write my journaling by hand because I truly believe in the power of handwriting. I will use one of my Precision Pen by American Crafts (I'll share with you the final result).
For these two pages, I focused on the photos I took on Koala's birthday.
For now, here are the pro-s and con-s I see for using digital Project Life over in-my-hands Project Life:
On the + side:
It is fast. I use the clipping mask option in Photoshop so my photos go perfectly in the spots.

I can still print it at Costco (or elsewhere) and put it in our album so it does not stay on my computer.
It is cheaper.
I can still add embellishments on the page once printed.
Becky Higgins' products seem to be available digitally before being available for real.
On the – side:
I love playing with products I can touch, it takes this pleasure off.

It seems more boring on the long term
I can't add any memorabilia
It seems like there are more positive points; however, the two negative ones are big for me and could be enough for me.
I think that for the moments when I feel way behind, where weeks go by without anything put in the album, going for the digital version would help take some of the pressure of getting it done off. Because it is faster to have a page finished digitally than it is with the actual products. This is why I think I am going to do both, without really caring of when I do which. Just going with my own flow. As long as our memories our documented, I think that it does not really matter eventually if I did the spread on Photoshop or with actual kits.
Do you do digital memory keeping ?? I would love your input 🙂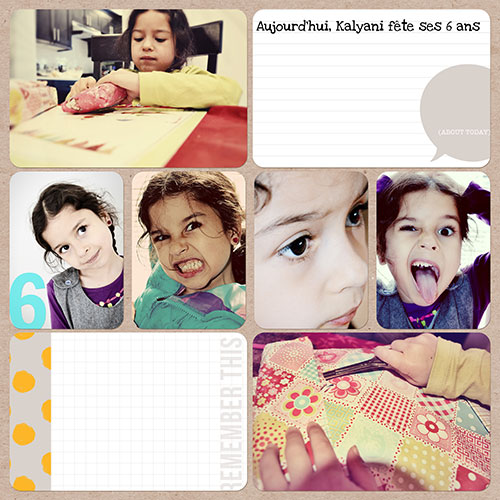 I used the Midnidght digital kit, designed by Liz Tamanaha and the digital template of the Design A page. As it's the newest release, the Midnight edition is on sale during all this week (until Sunday), just thought you may wanna know. I also used Photoshop CS6.