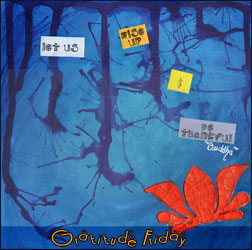 Gratitude Friday is a weekly ritual I started in order to focus on all the small and big positive things that happened during my week. I invite you to join me, you'll see how much being thankful can change your life. If you want to know more about it, read my introduction post.
Hola !
It's Friday my friends. Spring break, for two weeks, with two young kids avid of things to do. «Why can't we watch tv Mom ?», yes I am trying to limit their screen time because between tv, the computer, the games console, the tablet…. they would spend all their days on that. And… I had the joy to discover plenty of lice eggs in their hair at the beginning of the week, and mine because lice love my afro hair you know. Which forces me to limit their time with our neighbors as I don't want them to be infested as well. That sucks ! If you have any tips to kill them all for good, I take it (I spend 3hrs/day getting rid of the eggs, hair by hair).
We celebrated Koala being now 6. Nothing big but she loved her day, which is what matters to us.
This week, I am thankful for:
Learning from past experience.

The feeling of accomplishment that goes with this week painting.
Packing orders.
Facetime.
My mom arriving in about 3 weeks from now.
The Sun between the rain.
Walking with the girls to the nearest park, which is about 1km from home (± 0.62 miles). Letting them play and run outside. Did it despite in pain.
Artists that share their gifts.
Nice words of encouragement regarding my art.
Good food.
Taking it easy.
Make up
Abundance
If you wrote your Gratitude Friday on your blog, don't forget to enter your NAME and URL below so I'm notified and can come to read you (you can also join by commenting this post):
[linkme]