I am attached to every single one of my paintings at some level. Sometimes it happens instantly, but it can also take more time for it to happen. Whatever it is, I stay open to the outcome. Always. Trusting and surrendering, receiving so much joy (and frustration) from the process itself.
This is what happened with this Nixie, Medea.
See, when I am in a funk or under too much pressure (often self-inflicted) I have one solution or two. One of them: pick a big surface and paint just for you, just for the fun and thrill of seeing whatever wants to emerge. Abstract, Nixie, Sprixie… really: whatever.
I shared many steps she is composed of on my Instagram feed, and I have the impression that people connected with her very easily. Same on facebook, where she received many praises.
Can't wait to see what her new owner feels when she opens her package and discovers her in real life !!!
It is not the outcome that matters when I start this sort of painting…
…and this is why most of them takes way longer than what I usually need to come to fruition. And that is totally fine with me, because I don't have any deadline to meet for them to come to life.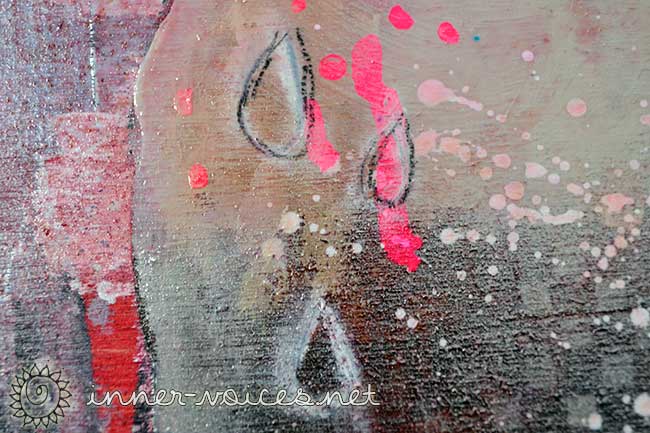 Medea was created with all the techniques I know and that make my heart flutter with happiness and giddiness (is that even a word ? well if not, now it is !). Texture, stencils, splatters, lines… I noticed that it is okay too to stay into the boundaries of the known, the unknown does not have to be explored within every.single.painting. It can, but it does not have to.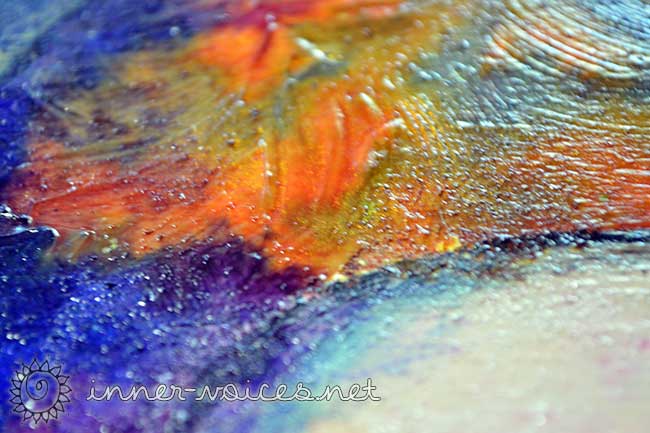 Do not forget the shimmers…. I had fun playing with Silk glazes and some Primary Elements powders from ColourArte in her so beautifully textured hair. The two married so well together I might have done a little happy dance accompanied with squeeling 😉 not even a shame (I noticed it happens when I have a ah-ah moment).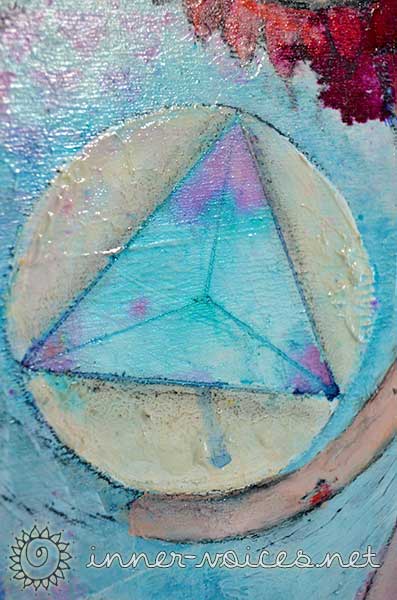 And an obsession of mine… shapes. geometry. Sacredness. meaning. This part of the painting gave me a hella hard time. But I like how it turned out eventually.
I had to let Medea sit on my easel, in front of me, for weeks at a time sometimes. Doing a new thing, pondering if it felt right in my guts or not. If yes, good; if not, it would be covered up in the next session.
There was frustration happening but so much love for the process, so much gratitude for being able to do what I do as I please.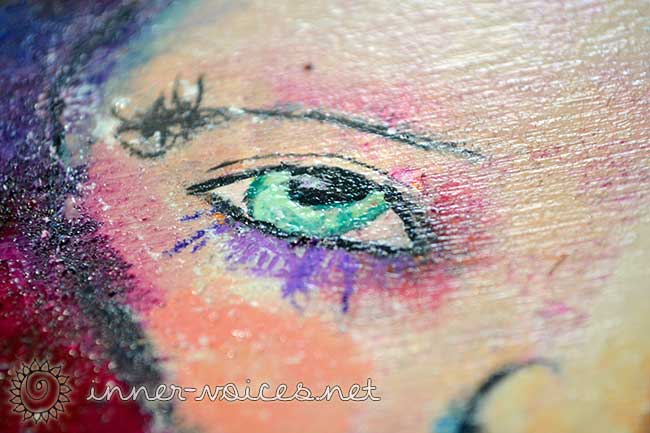 And her eyes that pierce right through you with such grace…