Today I am sharing a short video in which I share my first view of the new Silk set from ColourArte, called Meridian Moon.
I show you an easy way to do a swatch-ish thing to put on your product's lid so you know exactly the color.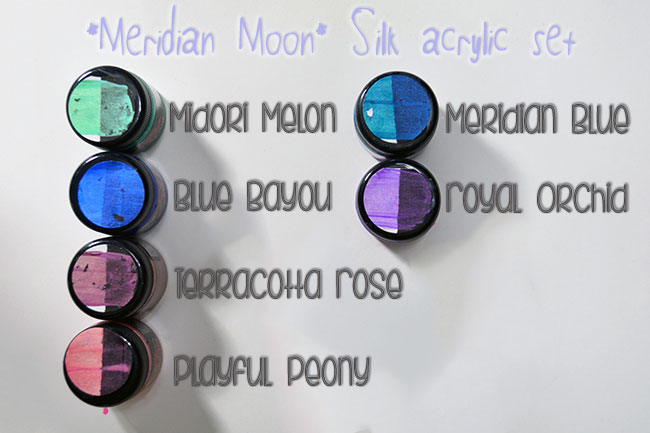 Here is the video:
If you're not familiar with the product, Silk are acrylic paints that are duo-toned: a base and a shimmer. There are highly pigmented but because they are a glaze, they have the particularity to be semi-translucent. Perfect for layering, for example !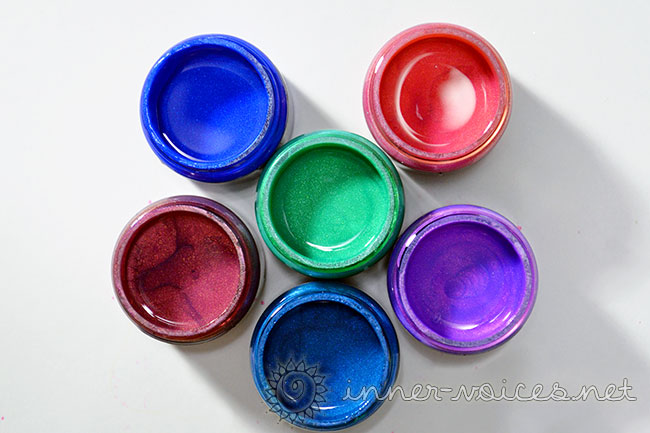 And these colors are also available in the other lines of products, Primary Elements (the pigment powder) and Twinkling H2O (the watercolor in cake form):
Royal Orchid (Medium Lilac in Red-Violet Pearl): Silk | Primary Element | Twinkling H2O
Playful Peony (a Coral pink in red Lilac Shimmer): Silk | Primary Element | Twinkling H2O
Terracotta Rose (Brick Red-Brown-Violet in Red-Pearl): Silk | Primary Element | Twinkling H2O
Midori Melon (Melon Green in a Green Pearl): Silk | Primary Element | Twinkling H2O
Blue Bayou (Deep Water Blue in a Brilliant Blue Pearl): Silk | Primary Element | Twinkling H2O
Meridian Blue (Blue-Black in Blue Shimmer): Silk | Primary Element | Twinkling H2O