Susannah Conway is inviting us to post a photo a day on our blog for the month of august. I won't only do that and will write other blogposts as well but I thought it was a good idea. No pressure is what I need.
Here is my picture for today: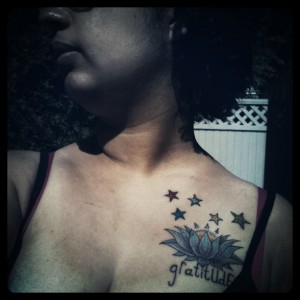 Yesterday (july 31st 2011) I got my 4th tattoo done at Adrenaline, in Vancouver, by Jimbow.
This tattoo was done on the most painful trigger point of my body. The one i can't even touch without saying a huge "ouchhhhhhhhhhhhhhh". Maybe I am a masochist, and trust me the first 3 were easy peasy, this one hurt like Hell.
Jimbow, just before beginning, gave me a strong mint chewing gum, telling me "it is very good to have this while getting a tattoo, so you can chew the pain" and yes… And breathing too. I am happy I gave birth twice so I learned how to manage the pain (do not laugh :-))
The tattoo itself took me like a year to come with the concept.
The lotus flower is one of my personal symbol. It blooms in the mud. It is also a symbol of faithfullness and spiritual awakening so I know I stay on my path, always.
Five stars (that finally will be 7 someday), one green for healing and abundance, one yellow for my mom, one teal for my husband, one red for Grenouille (my first daughter), one blue for my Koala (second daughter).
And my power word GRATITUDE written in the handwriting I use on my artwork (it was important to me), to remember to appreciate everything I am given and thank for it, the bad, the good.