A short backstory…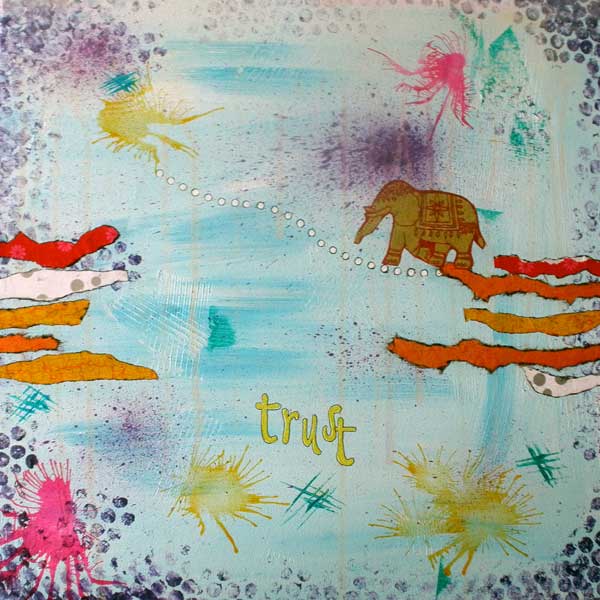 I started my adult creative journey by making small art for our home, back in Toulouse (France). It was a lot of decoupage and textured stuff. I was not comfortable with my own sense of style, and used books that offered art to reproduce.It was a good way to come back to it after decades of silence.
And then, I fell down the Youtube hole: I discovered women like Tamara Laporte, Samie Harding and Suzi Blu. These three ladies opened so many doors in my (he)art! That's when I discovered both Mixed Media and Art Journaling.
They introduced me to the world of creating characters. That's how I started painting girls, that later became the Nixies you know now.
Trying to break the clichés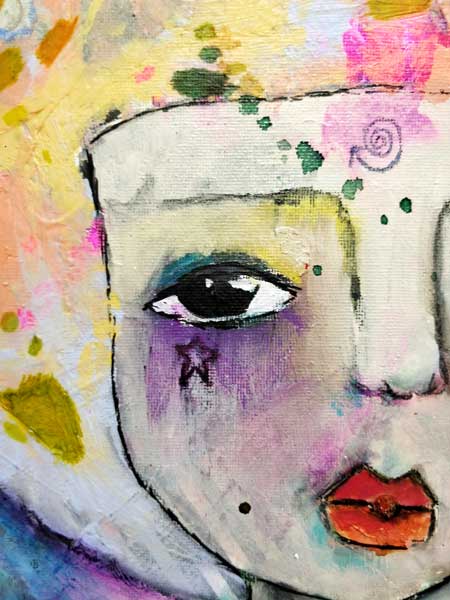 Insecurities. Fears. Mental blocks. I still face them today. However, I learned how to notice when they enter my mind so I can do my best to bypass them.
I used to paint girls as I thought people would like them. It was forced but not conscious.
Please, don't tell me what I do is "cute" because I won't take it as a compliment (even if it probably is one). I create to feel, to make YOU feel.
Once I started making the art that needed to come to life, everything shifted.
The birth of my She's A King series
It started as my 100 Nixies project. No pressure, no deadline, just exploring these characters and deepening my creative process.
Then, crowns appeared. On each of them. And the crowns are here for a reason… it became clear to me that this specific series was a whole and needed to be renamed.
She's a King… why would they be a princess or even a queen when they truly are so much more than that. Their energy when I create them is palpable and loud. I feel rumbling in my insides, and humming in my Soul.
Their energy when I create them is palpable and loud. I feel rumbling in my insides, and humming in my Soul.
These Nixies are, for now, the zenith of the faces and characters I create. I am very proud of each of them and can't wait to see what the last ten will look like. 100 faces to paint is a hell lot, but it is so exciting at the same time. I paint what comes forward on that specific moment in time. I let them come to me, tell me what they need and go for it. This is a huge step from a decade ago when everything started and they did not even have eyelids 😀
I wish you could feel their power.