I sometimes have crazy ideas that pop in my mind… I usually shove them off quickly to go back to more rational ones. But this idea came back again and again, so I decided to give it a go.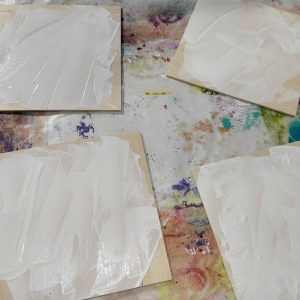 I am still struggling though, with the fact that paintings take physical space in our home. With the fact that I wish people would love them so much to give them new homes. But what if instead of coming from a place of Fear, I was shooting for Joy and Hope instead ? I am okay with "what if…".
Trading art ?
A friend *thank you Sal* suggested that I could do art trades with other artists and I really like this idea. If you remember the tour of my ArtCave, you may remember that I have a FanGirl wall with paintings I bought or was gifted. This is my favorite wall in my Studio. So if you're interested, maybe I can trade one of these 100 Nixies with you 🙂
I also decided not to give myself a time table.
It will take the time it will take but I know that actually giving myself a "it has to be done by this specific date" would put too much pressure on my shoulders. And this is about practice and joy. Painting for painting. Painting for exploring. Doing it for myself first.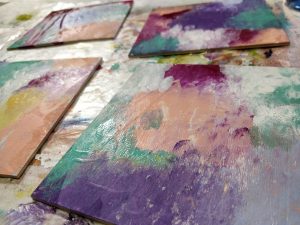 I think this project will help me not giving up on my Nixies, on my art, on my creativity. At least, this is what I hope… and sometimes, hope is all you need to keep going forward.
My path is my own and I need to stop comparing it to my friends' or other artists'. I love being part of a community but I often feel invisible and hurt. It is a shitty ego issue I have to deal with, I guess 😉
Do you sometimes give yourself creative challenges ? What are they ?