Hello !
A new video is here, yaaaaaay 😀 You know how I love recording them, the editing process and then sharing with the world. I am still trying to figure out how to use the video option on my Nikon D5100 and had some bad surprises noticing it stopped recording or did not focus well sometimes. So bear with me 😉 I'll get it eventually, right ? I even recorded a voice-over explaining what I was doing. I find it easier to record and comment once the painting is done, instead of speaking while working. It would be too distracting for me. And I tend to sing along the music that is bursting in the studio while I create; trust me you don't want to hear that, no no no.
This time, I decided to go back to painting on stretched canvas, a deep edge one (because I love playing with the edges at the end).
I just try to come back. Come back to what I love doing. Come back to sharing my Story, my way. Come back to listening to my Inner Voices, the good loving inspiring one, and shutting the nasty ones up.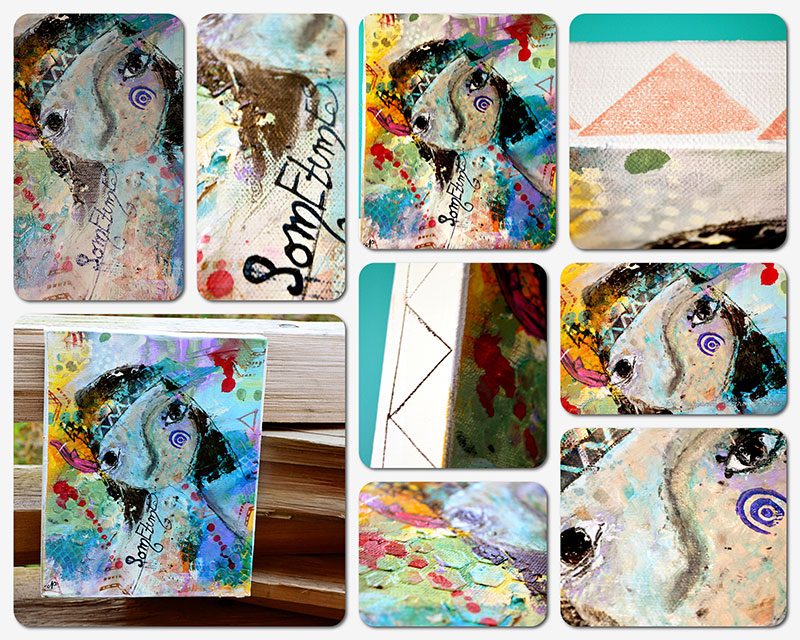 I intentionally let the wording vague. Because this painting means something to me that you may not see, and what it brings to you when you look at it is probably different. However, I did write a little something…:
Sometimes…
… I wanna disappear,
I want it all to be clear.
Sometimes…
…I look at the sky,
Just wishing I would know why.
Sometimes…
Can you see how much I love using the stencils from The Crafter's Workshop ? I really like that some of them are as good used with a spray than used as a «stamp» (you'll see what I am talking about in the vid). This doily one, designed by Julie Fei-Fan Balzer is one of my favorite, I think I will have to get my hands on her more tribal one too.
If you'd like a more detailed list of the supplies I used, please just ask and I will do something about that 🙂
Prints will soon be available in the shop, as well as the original painting.
Here is the video, hope you enjoy !