Trist is one of my newest Nixies. She is here to tell you that it is okay to feel what you feel.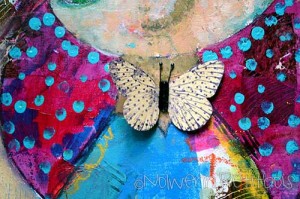 I am one of those chicks who firmly believes in the power of thoughts. That believes in the fact that our thoughts build our worlds, both inside and outside of us.
Thoughts and emotions are closely intertwined (thanks my dear friend Sweety Falafel for saying that to me again and again (and again and…)) and we are not the slaves of our thoughts.
OK, I have no idea where this was leading to, I guess I just had to write it here (this is the downside of starting a blogpost and coming back again several days after)…
I don't hide anymore that I used to be what I call «Spleenic» (in the Baudelaire's meaning nothing to do with any organ, but it seems like something you don't learn about in the US as he was a French Poet in the 1800s. It describes an everlasting state of Melancholy without any reason. *if you read french, here is a good article about it*). I woke up sad, felt it all day long and would go to bed crying without really knowing why.
It was a vicious circle, my whole life was evolving around this sadness (the music I was listening to, the movies I adored, friends that would understand, a boyfriend that was as broken as me…).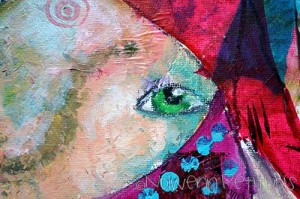 My Nixies have all an important message to deliver (even when I think I am not quite ready yet to hear it, to work through it at that moment). Sometimes, however, this message is quite unexpected to me. I like that they are all someway positive, this is something that matters a lot to me. Even if sometimes they touch sensible points, like Amelia's.
It never fails to make me nervous to share them when it happens. However, I do know that there is a positive reason behind everything, including these messages around difficult areas of Life.
Trista is about sadness. She is here to remind me that sadness is just an emotion that passes through me, that yes sometimes decides to settle in for a while, but that always eventually go away.
I used to fight it. Hard. And the harder I tried to push it back, the longer sadness stayed. I never really won against her on the long run, to be honest. This is how I learned to embrace it, to make peace with it, and then to let her go.
Trista reminds me that sadness is not a fatality. It does not define me.
Your emotions DOES NOT define who you are. Repeat after me: «My emotions are not me». Good !
Here is the video (click on the little gear button to watch it in HD):