Welcome to LSG & 7 Dots Studio Creative hop!  We are so excited to have to amazing companies team up for a full day of creativity.  This hop will surely get your creative juices flowing so head on over to all these incredibly talented crafters to check out how they've combined the beautiful lines by 7 Dots Studio with Lindy's Stamp Gang products, it's a match made in color heaven!
We have a little surprise for you:
We would love for you to show some love to all our crafters and leave them a little message. You will have the opportunity to win a fabulous prize by both 7 Dots Studio and Lindy's Stamp Gang so please let us know that you have done so by coming back to 7 Dots Studio and Lindy's Stamp Gang blog at the end of the hop.
I love 7 dots studio, brand that I discovered through the amazingly talented Anna Dabrowska (aka Finnabair). The lines are so gorgeous that, to be totally honest with you, it is a bit intimidating to work with for me as I tend to cover up most of my paper layers in my creative process.
I started by tearing the beautiful Messy Head paper to 9x12", I love ragged edges. Then, I mixed some Gab Me With A Spoon Gray Magical Mica with soft glossy gel medium to create a wonderful shimmery paste, that I simply applied with one of my Catalyst wedge here and there (it was helping me to overcome the «blank page» syndrom). I also used it for the top left corner.
I love love love the new dusty rose color, Bodalicious Blush, and sprayed it through a stencil as well.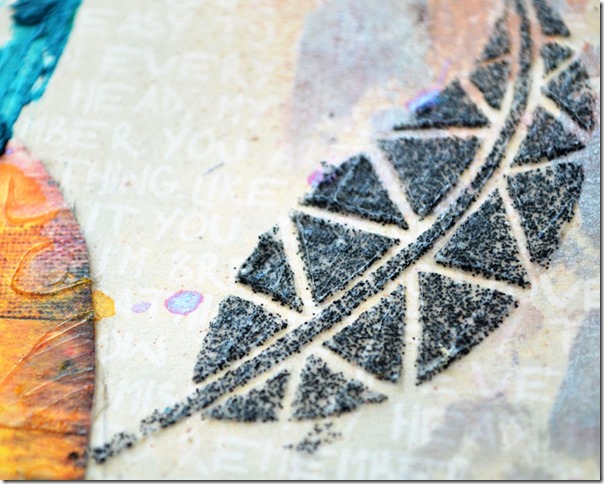 Gel media and our LSG products love each other, proof is I used heavy gel with our Midnight Rendezvous Raven glitters (still from Totally 80's) to stencil through and create her leafy wings; and then again with another stencil that I sprayed, once dry, with Icy Primrose Gold (a discontinued color) *the ink goes in the cracks and creates natural contrast*.
I used Fiber paste mixed with Time Travel Teal Magical Mica to create a great texture for her hair. I love how vibrant it stayed.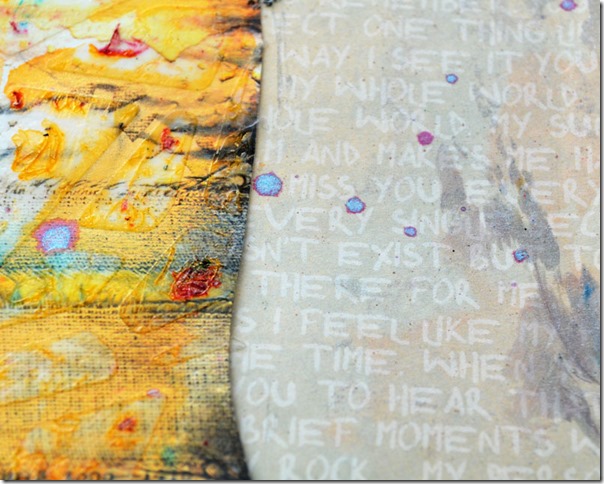 I love the short sentences on this paper, so you don't necessarily see them at first but they are here.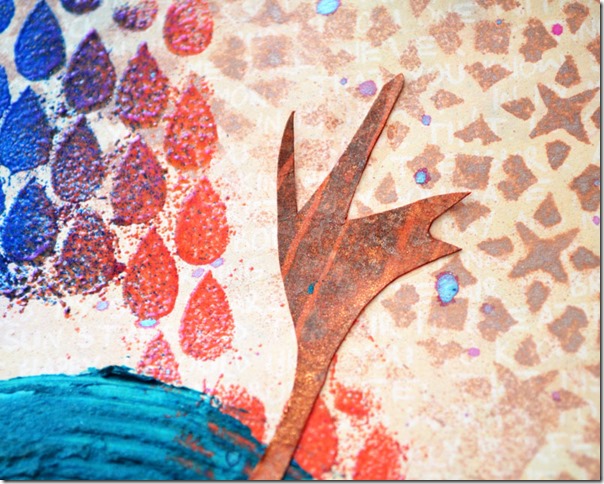 I embossed the drops with Pumpkin Fiesta and Hydrangea Blue Mauve embossing powders, I did want the overlapping of the two colors so it was totally made on purpose.
Her antlers were cut out from the What Wood U Say paper, and then sprayed with Cowabunga Copper before being glued.
For her dress, I used the Sweet Dreams paper from the Dreamer collection. The fabric and colors were perfect for a dress. I did not want it to lay flat on top of the rest so I applied gel medium through a stencil, and to make it pop just a little more, sprayed with a golden Starburst Spray (as said earlier).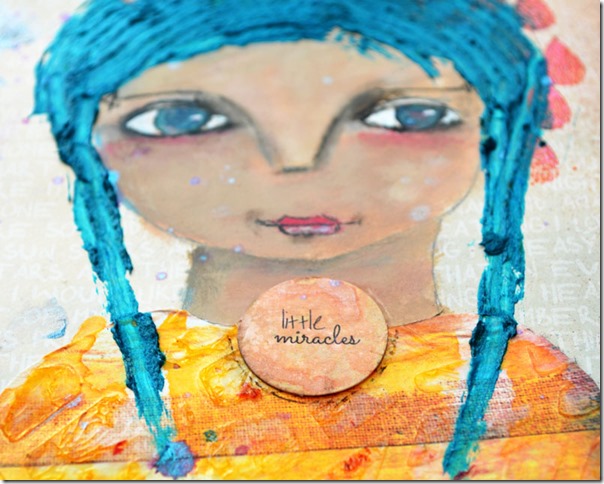 Her messages, Little Miracles, comes from the Messy Head Elements. I simply sprayed it with Cape Cod Coral and glued it where it seemed important.
I used Frolic In The Forest Green Magical Mica (from the Tickle Me Fancy set) for her eyes. And last but not least, I splattered the amazingly unique Sweet Violet Purple Teal as a final touch.
Here is a full list if you get lost along the way, have fun!:
Here is the list of the supplies from both brand that I used. Please, click on a product to be redirected to its page:
I'm so happy to finally share with you more about this fantastic line from Lindy Stamp Gang. It's been out there for a bit now. We are now introducing the Mad Hatter line from Lindy Stamp Gang.
Thanks a lot to those of you arriving here from Limor's blog.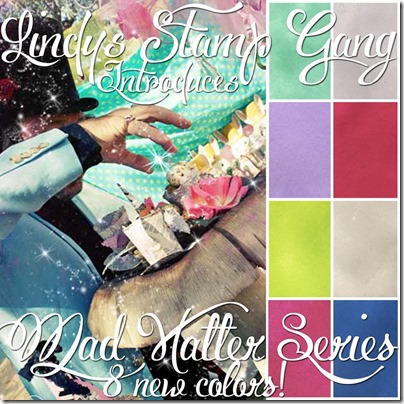 There are 8 new colors in total: 4 Starburst Sprays (2-tone spray, with shimmers), 4 Flat Fabio (no shimmer), but also coordinating Embossing Powders and Glitters.
I wanted to do a spread in my Art Journal for that blog hop going on ( We also are celebrating the new ladies who entered our family. You will be so amazed at all the diversity that now composes our Design Team. Such a great amount of talent and no one does the same than the other). New blood was found during our DT call, and I am so happy with the choices that were made. We are all passionate about Lindy Stamp Gang's products.
Here is my spread: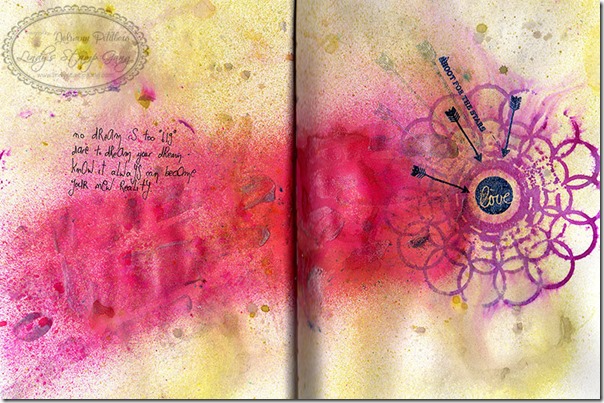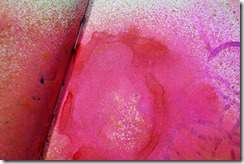 It is PINK ! I know… what's going on with me ? Well… you'll understand when you'll play with the Cheshire Cat Cherry Starburst Spray. It is a vibrant hot pink with such a beautiful shimmer (click the image on the left to enlarge).
I started with this big stencil cleaning leftover, it was a LSG spray too but honestly I can't remember which one exactly. I wanted it to be the focus point of the page and started from there.
I sprayed I'm Late, I'm Late Slate over the entire spread, so it would not be white anymore. It is a subtle color, so it left me plenty of room for the next stages. Once heat dried (not patient enough to wait for it to hair dry), I sprayed Cheshire Cat Cherry in a way that makes me think it is coming from that doily shape, like a falling star. I then sprayed Curiouser Chartreuse to add a bit of pop around.
The center part of the doily was feeling too empty, so I grabbed this amazing stamp set from Mama Elephant and played with several of them.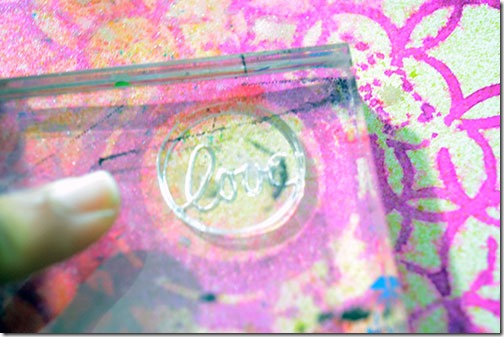 I inked the round «Love» stamp with embossing ink and then applied Midnight Sapphire embossing powder. I love how imperfect this looks, and bumpy. Dark blue and hot pink = gleeeeeee !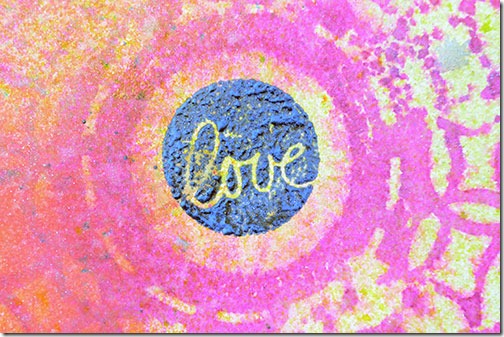 I first stamped long arrows with the Weeping Willow Green embossing powder. I liked the very subtle effect and that I needed to look for it to see them… but I eventually stamped shorter arrows and embossed them with Midnight Sapphire, so it will bring back the center of the doily.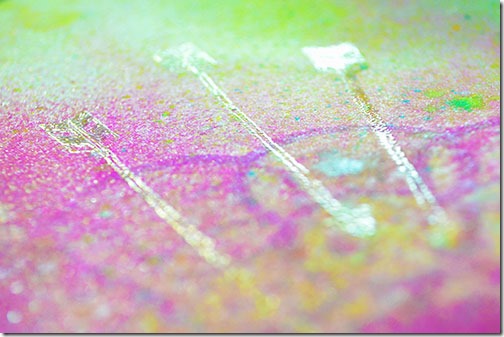 I took the sprayer from the bottle of Down The Rabbit Hole Starburst, and dropped it here and there.
I wanted to try to create my own glittery medium and am so happy with how it turned out. I am not a glitter kind of girls, I love shimmers but glitters… well, not so much. However, these babied in the Mad Hatter set are scrumptious. I used Silver Moon, it is a very fine powder that once blended with gloss Gel Medium created that beautiful glittery paint I applied with my Catalyst blade over the pink trail to have a fairy dust effect (who does not need some fairy dust, right ?).
I finished my page with some quick writing (no thinking, just writing) with a Faber Castell india ink pen.
Discover the projects of the other DT members on the blog, right there.
Next stop on our blog hop is Ivett, you can check her project here.
Here are the links for the products I used, so you can directly be taken to the Lindy Stamp Gang shop and discover this latest addition in the family (my favorite to date):
I am very happy to be part of this Holiday blog hop organized by Katie Cahill.
Today is my day, and I want to present you Kristi Parker VanDoren from BK Design Studio.
Kristi is an artist, she also writes. She creates beautiful mixed media pieces from her home in Missouri. She is in the paper crafting industry for more than 35 years !
She loves creating cards, altered arts, home décor, and scrapbooking.
She is very eclectic and you can see it through her shop where she sells mixed media altered photo frames, jewelry, journals and plenty of other products.
Go check her blog: http://kristiscreativecafe.blogspot.com
For the occasion, I regrouped my favourite artworks from the artists participating in this bloghop on Etsy:
Treasury tool by Red Row Studio.
I love how it includes several media and that styles are very different from each others. I hope you will enjoy discovering them as much as I do.
Here is our hop schedule:
November 25th – Katie Cahill
Etsy Shop: http://www.etsy.com/shop/KatieCahill Blog: http://katiecahillart.wordpress.com/
November 26th – Wini Dougal
Etsy Shop: http://www.etsy.com/shop/artlovejoy
Blog: http://www.artloveandjoy.blogspot.com/
November 27th – Nolwenn Petibois (you are here right now ;))
Etsy Shop: http://InnerWorlds.etsy.com/
Blog: http://www.inner-voices.net/
November 28th – Kristi Parker VanDoren
Etsy Shop: http://www.etsy.com/shop/BKDesignStudio
Blog: http://kristiscreativecafe.blogspot.com/
November 29th – Emily Cline
Etsy Shop: www.etsy.com/shop/RubyShea
Blog: www.emilyclineart.com
November 30th – Jennifer McGee Urbanek
Etsy Shop: http://www.etsy.com/shop/MyArtistWithin
Blog: http://urbanekdesign.blogspot.com/
December 1st – Alicia Caudle
Etsy Shop: http://www.etsy.com/shop/digit13
Blog: http://alteredbits.wordpress.com/
December 2nd – Tracey Verdugo
Etsy Shop: http://www.etsy.com/shop/CasaCantamar
Blog: http://artoftracyverdugo.blogspot.com/
December 3rd – Liza Baker
Etsy Shop: http://www.etsy.com/shop/LizaZeni
Blog: http://www.lizazeni.wordpress.com/
December 4th – Sun B Lewis
Etsy Shop: http://www.etsy.com/shop/sunblewis
Blog: www.sunshinebarlowe.com
December 5th – Angela DiGiovanni Kemp
Etsy Shop: http://www.etsy.com/shop/AngelaDiGiovanni
Blog: http://AngelaDiGiovanni.com/
December 6th – Sharon Rowland
Etsy Shop: http://www.etsy.com/shop/AlicesSecretDoor
Blog: www.alicessecretdoor.com
December 7th – El Tsamp
Etsy Shop: http://www.etsy.com/shop/eltsam
Blog: http://apinkdreamer.blogspot.com/
December 8th – Katie Cahill (Katie is closing and opening our circle)
Blog: http://katiecahillart.wordpress.com/
Most of us our celebrating by offering a sale, mine is 15% off everything with the coupon THANKS2011 at checkout.