I'm so happy to finally share with you more about this fantastic line from Lindy Stamp Gang. It's been out there for a bit now. We are now introducing the Mad Hatter line from Lindy Stamp Gang.
Thanks a lot to those of you arriving here from Limor's blog.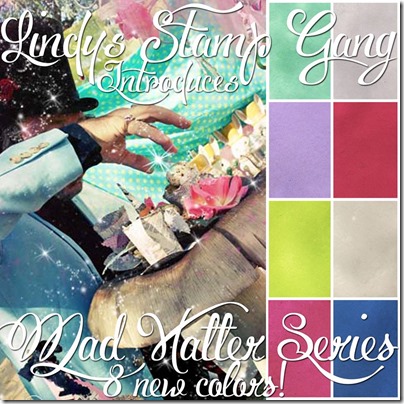 There are 8 new colors in total: 4 Starburst Sprays (2-tone spray, with shimmers), 4 Flat Fabio (no shimmer), but also coordinating Embossing Powders and Glitters.
I wanted to do a spread in my Art Journal for that blog hop going on ( We also are celebrating the new ladies who entered our family. You will be so amazed at all the diversity that now composes our Design Team. Such a great amount of talent and no one does the same than the other). New blood was found during our DT call, and I am so happy with the choices that were made. We are all passionate about Lindy Stamp Gang's products.
Here is my spread: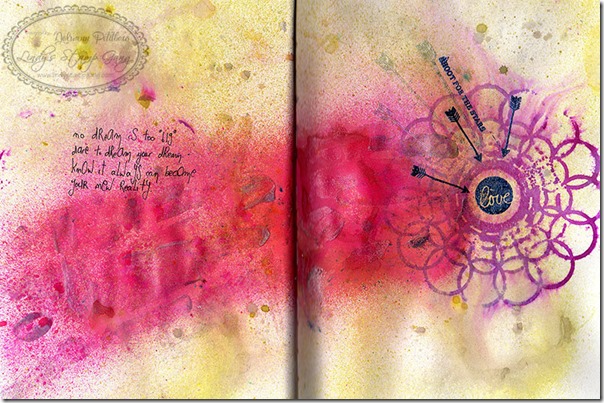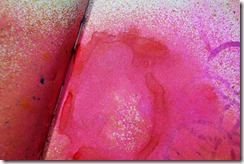 It is PINK ! I know… what's going on with me ? Well… you'll understand when you'll play with the Cheshire Cat Cherry Starburst Spray. It is a vibrant hot pink with such a beautiful shimmer (click the image on the left to enlarge).
I started with this big stencil cleaning leftover, it was a LSG spray too but honestly I can't remember which one exactly. I wanted it to be the focus point of the page and started from there.
I sprayed I'm Late, I'm Late Slate over the entire spread, so it would not be white anymore. It is a subtle color, so it left me plenty of room for the next stages. Once heat dried (not patient enough to wait for it to hair dry), I sprayed Cheshire Cat Cherry in a way that makes me think it is coming from that doily shape, like a falling star. I then sprayed Curiouser Chartreuse to add a bit of pop around.
The center part of the doily was feeling too empty, so I grabbed this amazing stamp set from Mama Elephant and played with several of them.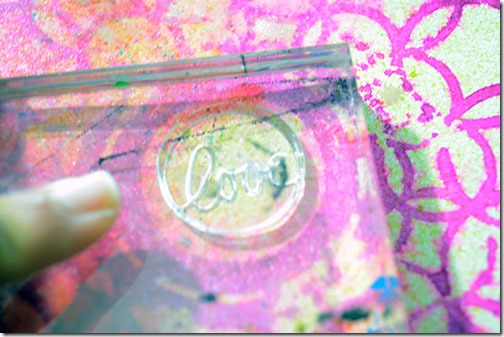 I inked the round «Love» stamp with embossing ink and then applied Midnight Sapphire embossing powder. I love how imperfect this looks, and bumpy. Dark blue and hot pink = gleeeeeee !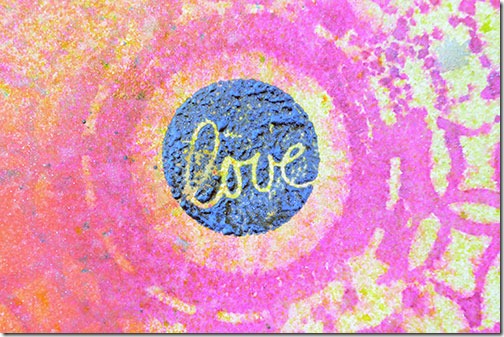 I first stamped long arrows with the Weeping Willow Green embossing powder. I liked the very subtle effect and that I needed to look for it to see them… but I eventually stamped shorter arrows and embossed them with Midnight Sapphire, so it will bring back the center of the doily.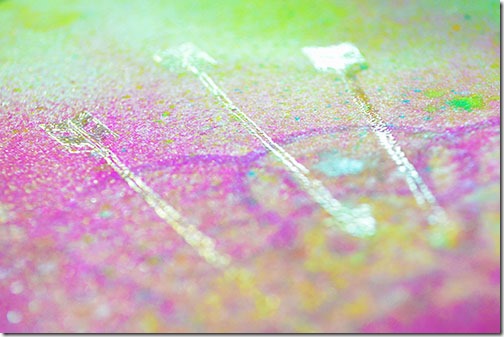 I took the sprayer from the bottle of Down The Rabbit Hole Starburst, and dropped it here and there.
I wanted to try to create my own glittery medium and am so happy with how it turned out. I am not a glitter kind of girls, I love shimmers but glitters… well, not so much. However, these babied in the Mad Hatter set are scrumptious. I used Silver Moon, it is a very fine powder that once blended with gloss Gel Medium created that beautiful glittery paint I applied with my Catalyst blade over the pink trail to have a fairy dust effect (who does not need some fairy dust, right ?).
I finished my page with some quick writing (no thinking, just writing) with a Faber Castell india ink pen.
Discover the projects of the other DT members on the blog, right there.
Next stop on our blog hop is Ivett, you can check her project here.