Hello !
Thank you so much to you for your participation in this first giveaway I made to celebrate my 25th birthday ! I have just picked a winner thanks to the website random.org.
You were 19 participants and the website chose… #11 !!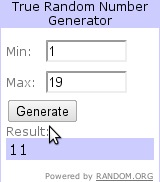 And who was the 11th person to comment and tell us why she loves doodling ?


Congratulations Jenny ! You're the first winner.
Please, send me your snail mail address by email at nolwenn@inner-voices.net so we can ship you your Doodle Diary copy.
Stay tuned for the second giveaway that will be announced soon 😉
PS: I am a Virgo