Hello beautifulz !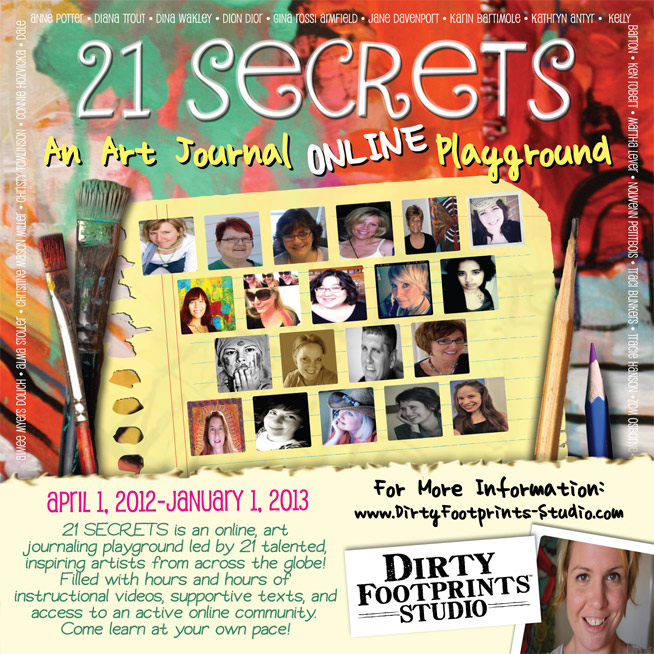 We, the teachers of 21 Secrets, are now in the starting blocks to get the playground ready for you to come in and enjoy on April 1st. It's just a couple of weeks away now.
It's not too late to sign up and join us in this adventure. Registrations will stay open until October, and the playground will be available until January 2013: plenty of time to learn, share and discover.
In case you missed it, here is the official description:
21 SECRETS is an online, self guided, Art Journaling workshop that runs for a total of nine months where Art Journalers receive the opportunity to dive into different techniques, methods, and approaches to Art Journaling from a family of diverse, passionate, professional Artists. Each participant is able to choose which order of the 21 classes they take and have an active online community to share and grow with. All information including, pdf's, videos, and supportive text and photos are always available and teachers are present in a timely fashion to answer questions and share their comments.
I will share with you some stills of my class very soon now 😉
And the good news is: I have a spot to giveaway to one of my wonderful readers.
Rules are simple, leave one comment each time:
You get +1 entry for commenting on this blogpost
+1 for sharing it on twitter (please give me the link in your comment)
+1 for sharing it on facebook (please give me the link in your comment)
+2 for sharing it on your blog (please give me the link in your comment)
So you can get 5 chances, one for each comment in total 😀
I will close the comments on March 13rd evening (pacific time).
Note: Each of the teacher has an affiliate link and gets a part of the registration fee, this is how we get paid. I would be very grateful that you clink my link while you're on my blog if you consider signing in <3
And don't worry, if you already are registered, you can still enter and then offer the spot to a friend who will enjoy it. Sound good uh.
PSST: just to name a few, for $59 you will learn not only from me, but also from Julie Balzer, Kelly Barton, Christy Tomlinson, Dale Porter, Connie of course… She (Connie) gathered an amazing diverse group of teachers. Excitiiiiiiiiiiiiiiing !