Hello !
Those of you who are following me on Twitter know that I was planning some giveaways for my birthday. Yes, I'm like that: I receive so I give back.
BUT I didn't receive yet some of the awesome stuff I wanted to offer, that's why I'm doing later than planned.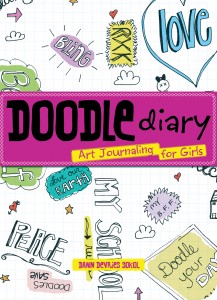 For this first giveaway, I chose the new book Dawn Devries Sokol called "Doodle Diary, Art journaling for girls". It targets girls from 8 years old to…..
The size of the book is perfect to go in your handbag.
Each page is colourful and contains a doodling/writing prompt to get you started. I just love it !
Dawn created herself each and every single page of her book. You can see the texture, the brush strokes, her fabulous typo… It will definitely spark your creativity. And why not going out of the diary and take some of the ideas to work on your own art journal ?
You could think this book is only designed for young girls but trust me: it's also awesome for adults and teens !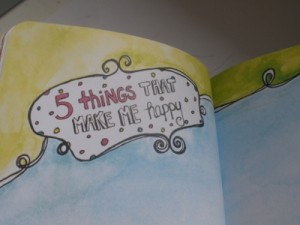 This page goes very well with my ritual of listing every night 5 things that made me happy during my day.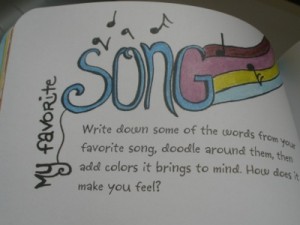 Sing your song, paste the picture of your favorite singer/band, write your favourite lyrics: whatever you want 😀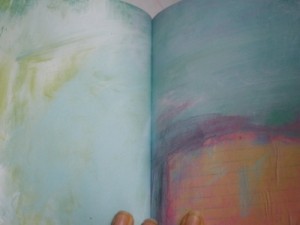 I think this spread is my favourite one in all the journal. I love the fact that not all of the pages contain a prompt, just having a painted background allows you to cover it in what you want, what it inspires you.
Forget the rule saying we shouldn't write on a book: it's made for writing, painting, decorating it !!!
So… do you want to win a copy of this fantastic book (if you already own it, I'm sure you'll find someone to offer it to, won't you ?) ?
Let me a comment here on the blog to tell me what excites you the most about doodling.
The contest will end on Tueday (September 28th) at Midnight pacific time. The winner will be chosen via random.org so you all have a chance to win !
Another giveaway will be poster next week ♥