I would have a lot to say about this new series that I simply titled «Let Them Bloom».
The desire to work with the symbol of the Lotus began when one invited itself on my canvas. It was November 2011, in the beautiful Artfest Annex of Teesha & Tracy Moore in Seattle. I was there to attend Flora Bowley's workshop.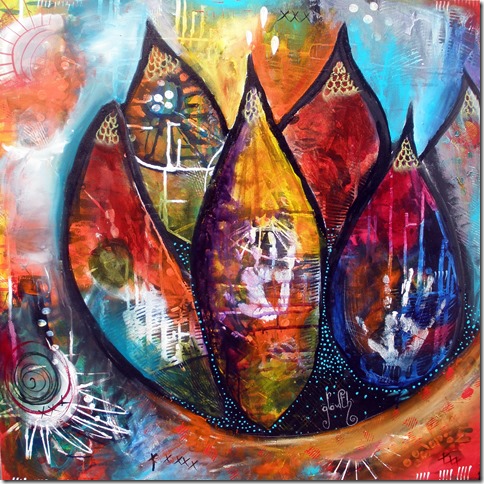 The drop magically became a Lotus. I did not see it coming. And you know what ? two of the four paintings below started as a drop first and I did not link it until right now, while writing you this. Funny. (my playlist is playing «Let the rain» by Sara Bareille… which is the title of a painting I created at the same time as the serie. thank you Universe for the synchronicity here).
I loved going out of my comfort zone. I was in the workshop with a totally open heart and mind, and no expectations. I left totally changed by Flora & Teesha's beautiful Souls and their strong will to help people find themselves via art. I didn't plan it. It was both a struggle and a pleasure to work on this painting (you can read more about it in this blogpost). When I came back home, I knew I wanted to explore more of it, to dig the symbolism and meaning of the Lotus in order to learn more than I already knew.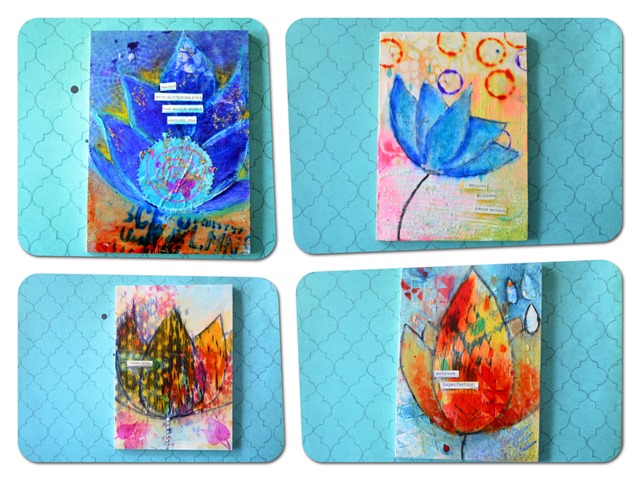 My Gratitude tattoo is a Lotus flowers with 5 stars. Even if planned in advance, Life decided that I got inked a short few days after being diagnosed with Fibromyalgia. No coincidence (I don't believe in them).
This series is titled «Let Them Bloom» because it took me a year and a half to have them appear on my studio table. I did try to push, to pull them out from my backgrounds. How many times did I start a painting session with the burning desire to paint a Lotus… But they always ended up as something else. The Lotus did not want to emerge. Maybe it was not time for them yet; maybe I was not ready for them yet.
I know more will come, I can just feel it. But these four taught me something very valuable for anything in my life: let it come. When the time will be right, it will appear in your life. If not, it was not meant to be.
Click each image to be redirected to its listing in the shop (so you'll have more infos about what's behind it):