I love playing in my art journal. It is no secret that it is my safe space. This is where I experiment. This is the place I go to when everything else feels too much, or not enough.
The fabulous Sarah Trumpp decided to dedicate 100 days to her stencil designs, creating one new every day for 100 days. She invited whoever wanted to join on their own challenge and called it #100daysofshenanigans (I invite you to follow the hashtag on Instagram to see what we are up to. It's a very diverse group, so cool).
I wanted to go back to my art journal. I tend to avoid it when my feelings are not in a good place; afraid of what would come up out of me to the page… Stupid, isn't it?
Enjoy the video:
SUPPLIES used:
Why do you use an art journal ? what made you decide to jump in ?
I sometimes have crazy ideas that pop in my mind… I usually shove them off quickly to go back to more rational ones. But this idea came back again and again, so I decided to give it a go.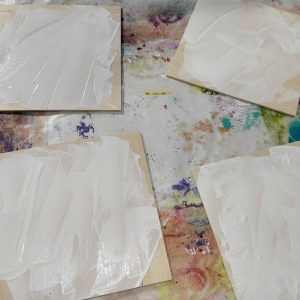 I am still struggling though, with the fact that paintings take physical space in our home. With the fact that I wish people would love them so much to give them new homes. But what if instead of coming from a place of Fear, I was shooting for Joy and Hope instead ? I am okay with "what if…".
Trading art ?
A friend *thank you Sal* suggested that I could do art trades with other artists and I really like this idea. If you remember the tour of my ArtCave, you may remember that I have a FanGirl wall with paintings I bought or was gifted. This is my favorite wall in my Studio. So if you're interested, maybe I can trade one of these 100 Nixies with you 🙂
I also decided not to give myself a time table.
It will take the time it will take but I know that actually giving myself a "it has to be done by this specific date" would put too much pressure on my shoulders. And this is about practice and joy. Painting for painting. Painting for exploring. Doing it for myself first.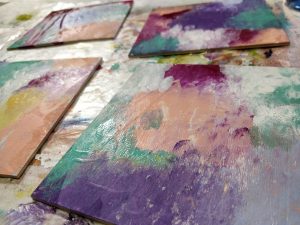 I think this project will help me not giving up on my Nixies, on my art, on my creativity. At least, this is what I hope… and sometimes, hope is all you need to keep going forward.
My path is my own and I need to stop comparing it to my friends' or other artists'. I love being part of a community but I often feel invisible and hurt. It is a shitty ego issue I have to deal with, I guess 😉
Do you sometimes give yourself creative challenges ? What are they ?
Writing here can be difficult. I sometimes, like now, dread putting the words on the screen. Because it means everyone will be able to see them. To potentially judge me for them. But it also means that maybe, someone will recognize herself/himself in these words. This is what keeps me coming back. Sharing my stories. Sharing my art.
I recently put the word "depression" in the outside.
I have never agreed to consult a therapist, even when my Mom begged me to talk to someone when I was a teenager. To me, it was not depression then; I was a melancholic romantic. Obsessed with poems from Charles Baudelaire and Arthur Rimbaud, I was leaving what Baudelaire called 'The Spleen". If you are not familiar with it, here is what Wikipedia tells about it:
In French, "spleen" refers to a state of pensive sadness or melancholy. It has been popularized by the poet Charles Baudelaire (1821–1867) but was already used before in particular to the Romantic literature (19th century). The word for the organ is "rate".
The connection between spleen (the organ) and melancholy (the temperament) comes from the humoral medicine of the ancient Greeks. One of the humours (body fluid) was the black bile, secreted by the spleen organ and associated with melancholy.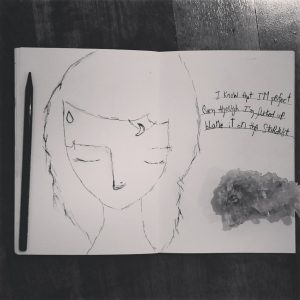 But almost 20 years later, I know I was deeply depressed. Something not many people know is that I almost killed myself once but an higher force kept me alive. Call it God, the Universe, my Higher Self, I don't care; to me, it was my Aunt who died when I was 9. Depressive thoughts have come and go throughout my life. And right now, I think it is time I put them in the hands of somebody else. I wanted to become a psychoanalyst and started University towards it (see, I am obsessed with the Human mind…). Some days, the fog is so heavy I can barely breathe. I used to have panic attacks, especially when we were living in Paris.
But I found something that could help me heal on my own: writing. sketching. painting.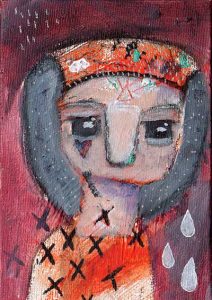 The pain is real. Painting it makes it even more real because then, I can actually see it. Years ago, I started an ongoing painting that I titled "Anger Management". It is a wood board on which I let it all go when anger takes over. It is better that to kill somebody, right ?
Another way of dealing with intrusive thoughts is to put them all on a canvas/journal, and then cover it up. Make the hurt something beautiful. Burying it all under dozens of beautiful and meaningful layers.
Love is louder. This was one of my mantras this year. Something I repeat to myself over and over until I feel it as a Truth.
How do you deal with shitty thoughts ? I would love to know your own techniques of coping <3
Some days, I just need to find my Inner Child again and let her play.
My heart has been very heavy in the last couple weeks, I did not have anything positive to create so I just did nothing. However, it could not go on forever. I have noticed that in the past, my best Nixies were created out of pain. Should I seek them out so they could help me and release some of the suffering ?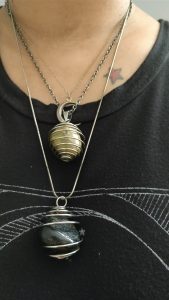 This time though, painting was out of the equation (I might end up deciding to share with you my current "work in progress" paintings), my work is way too dark. So I decided to go back to my childhood activity: making bracelets ! Jewelry has a special place in my heart: I call it Sacred Adornment. I choose very carefully what I will wear for the day. I often layer them, as in the photo there. Gemstones, symbols, colors… each has a purpose and a meaning.
You can infuse your work with intention and make it magical.
It's as easy as repeating a mantra of your choice while adding each bead. It can only be a word, don't over complicate it (I usually do !). When painting, or in my art journal, I hide symbols and/or words. My bracelets look simple, et really they DO are simple, but they have this little something others don't.
When a project is done, if it is something I intend to sell or gift, I will charge it with Reiki and smudge it before sending it to its new home.
I firmly believe that everything is and holds energy. And when I am creating, I infuse what I do with intention. It's essential in my work and I am currently teaching this basic notion to my daughters. Because once you are aware that even your thoughts are energy, I find it easier to shift the ones you don't need to replace them into something else…
Do you make jewelry ?
Inspiration is everywhere. Nature is one of the easiest place to get your inspiration from.
A weekend not long ago, my husband and I went for a weekend getaway in Mont-Tremblant (which is about 1.5hr away from where we live). We fell in love with the place last summer and wanted to spend some time together without the kids (thank you Mom for looking after the girls).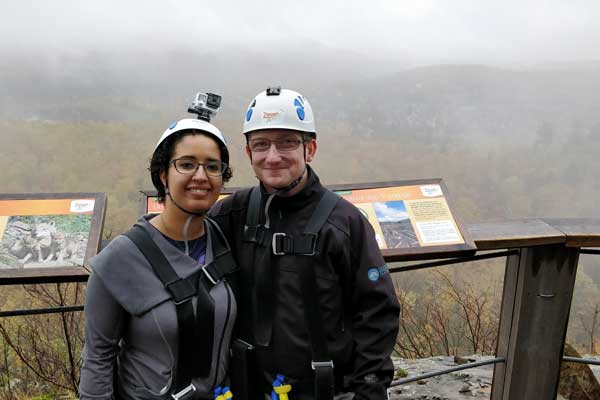 We decided to try the ZipTrek together. It is about a total of 3km of zip-lining and trek inside the beautiful mountain. The day was supposed to be clear but we can't trust the meteo. The fog was heavy and paired with some rain. I felt it all: the eternal question "am I crazy or what ??", the adrenaline, the surrender, the Magic of being surrounded by nothing. The view was breath-taking. And as a beautiful gift, while walking from one line to the other, we were greeted by a Mama Deer and her two babies.
The Deer is one of my animal guide, so it made it extra special to cross them on our path.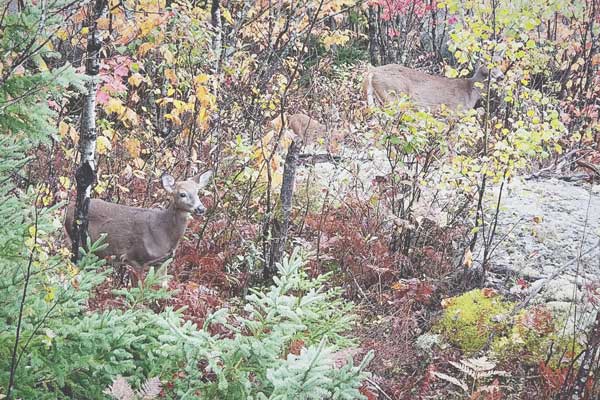 I looked up again what this encounter could me in the path I am right now and found this (from "whatismyspiritanimal.com"):
Throughout the world Deer symbolizes tenderness tempered with strength. This allows Deer spirit to act even when obstacles challenge the path. Deer also comes as a playmate for our inner child reminding us of innocent times where the smallest flower provided a smile and excitement.
Let me tell you: when you are up high, it truly feels like you are IN the clouds, flying through them.
It was scary as Hell but so exhilarating at the same time. I took all the beautiful Fall colors in to be reminded that even though Nature is currently preparing to sleep for a while. It was a magical time of year. Dying to become anew.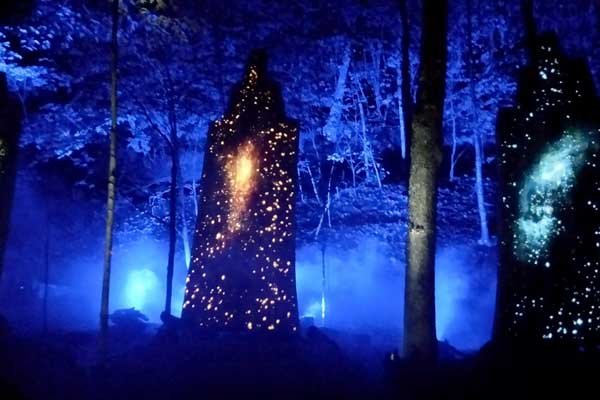 For the first time, Mont-Tremblant had a light show in the mountain: Tonga Lumina. There is a whole story that we follow once up in the mountain. It was magical. My Virgo analysing mind was blown away by the amount of work this must have been to install everything in the middle of nowhere.
The story reminded me that we are part of a Whole, that we are truly One.
Nature and Earth do not owe us anything, we are borrowing them and throwing them away as if it was a due for us Humans. It makes my heart really sad and I decided to find local associations in which I could help.
After that weekend, I had stories to tell in my journals (both my diary and my art journal). Images that wanted to be created.
Going outside was what I needed to feel refreshed.