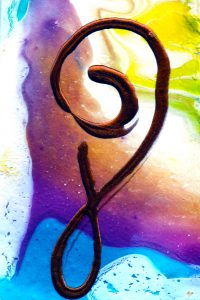 Welcome to this new Gratitude Friday ! Feel free to share with me your (partial or full) gratitude moments in the comments; that way I can hold joy for you ✿ (you know that makes me happy to make you happy).
Brrr baby it's colder and colder outside (we reached the -25C). BUT what is great is how appreciative of the warmth of our home we become.
Christmas holidays will begin next week, and my husband will have some time off so it means one thing: family time !!! Do you have any family traditions during that time of year ?
This week, I am grateful for:
Cooking vegan food
Magical oils
Books that helps me deal with my own feelings
Speaking my Truths via this blog
Creativity, keeping my hands busy
Bringing back my Soul Whispers intuitive paintings for you, so you can have a visible
Celebrating my husband's birthday and our dating anniversary
Neverending learning
Words and symbols and hugs