Writing here can be difficult. I sometimes, like now, dread putting the words on the screen. Because it means everyone will be able to see them. To potentially judge me for them. But it also means that maybe, someone will recognize herself/himself in these words. This is what keeps me coming back. Sharing my stories. Sharing my art.
I recently put the word "depression" in the outside.
I have never agreed to consult a therapist, even when my Mom begged me to talk to someone when I was a teenager. To me, it was not depression then; I was a melancholic romantic. Obsessed with poems from Charles Baudelaire and Arthur Rimbaud, I was leaving what Baudelaire called 'The Spleen". If you are not familiar with it, here is what Wikipedia tells about it:
In French, "spleen" refers to a state of pensive sadness or melancholy. It has been popularized by the poet Charles Baudelaire (1821–1867) but was already used before in particular to the Romantic literature (19th century). The word for the organ is "rate".
The connection between spleen (the organ) and melancholy (the temperament) comes from the humoral medicine of the ancient Greeks. One of the humours (body fluid) was the black bile, secreted by the spleen organ and associated with melancholy.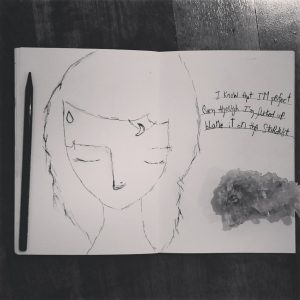 But almost 20 years later, I know I was deeply depressed. Something not many people know is that I almost killed myself once but an higher force kept me alive. Call it God, the Universe, my Higher Self, I don't care; to me, it was my Aunt who died when I was 9. Depressive thoughts have come and go throughout my life. And right now, I think it is time I put them in the hands of somebody else. I wanted to become a psychoanalyst and started University towards it (see, I am obsessed with the Human mind…). Some days, the fog is so heavy I can barely breathe. I used to have panic attacks, especially when we were living in Paris.
But I found something that could help me heal on my own: writing. sketching. painting.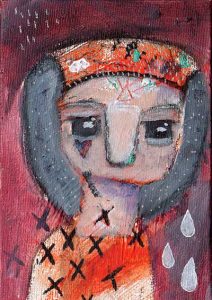 The pain is real. Painting it makes it even more real because then, I can actually see it. Years ago, I started an ongoing painting that I titled "Anger Management". It is a wood board on which I let it all go when anger takes over. It is better that to kill somebody, right ?
Another way of dealing with intrusive thoughts is to put them all on a canvas/journal, and then cover it up. Make the hurt something beautiful. Burying it all under dozens of beautiful and meaningful layers.
Love is louder. This was one of my mantras this year. Something I repeat to myself over and over until I feel it as a Truth.
How do you deal with shitty thoughts ? I would love to know your own techniques of coping <3