2020 was shitty. Challenging. But because I do my best at trying to find the bright side of things, I decided to share with you some of the stuff that made my days brighter (and still do today).
Makeup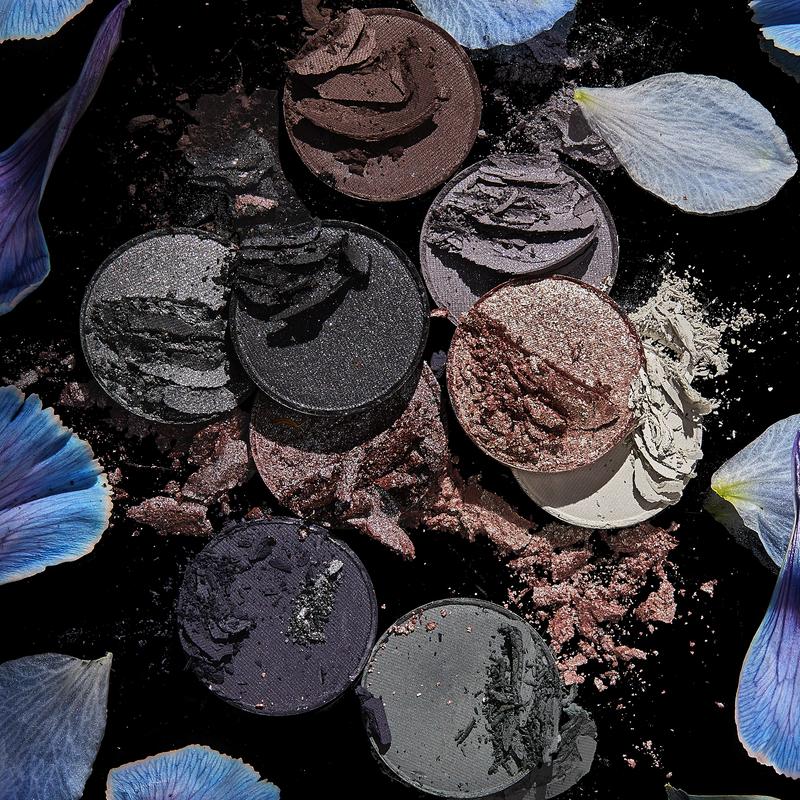 Anything from ColourPop but really, this

Baroque

palette is just the best one EVER. Matte, shimmer, glitter… it has everything. I use some as eyeliner and just adore it. Oh and if you loved the tv show Euphoria as much as I did, they have some glitter gels that are absolutely fantastic!
The

Lip Soufflé

from Rare Beauty are so comfortable. I know I know… "what's the point of wearing lipstick when you have to have a mask on every time you step outside?!". Well, putting some lipstick, for me, makes me feel stronger, it brings out the badass in me. Their eyeshadow palettes are very beautiful too. But my favorite from this brand is the Perfect Stroke eyeliner. Eyeliner is part of my signature look since my teenage years, let me tell you that I have tried plenty of them in the last two decades. This one is the perfect matte black, it applies over any eyeshadow I can use and it's easy to create that winged look I adore.
I am also loving the products from About.Face, which is Halsey's makeup brand. It launched at the beginning of this year and her products are fairly unique. The eyeshadows are called "matte fluid eye paint" and there is no better description: it actually is like paint for your eyes that you can apply however you want, you can mix the colours to create your own. It's just amazing.

Art Supplies Soft pastels, especially the ones from the british art supplies shop Jackson's Art. There are 200 colors to choose from, they are all handmade (!!!), creamy, highly pigmented… I just discovered a new favorite supply in 2020.
Matisse acrylic paint. It's impossible to find them here in Canada so I order them at the same time than the soft pastels, on Jackson's Art website. The color range is beautiful, some colors I have not found in other brands. The texture is so creamy, a real treat to use them. They exist both in heavy body ("structure") or in fluid ("flow") consistency.
Dina Wakley 6×6 Journal. It is smaller than what I am used to. However, the paper is absolutely AMAZING and thick. I use it for my mixed media abstract explorations.

Books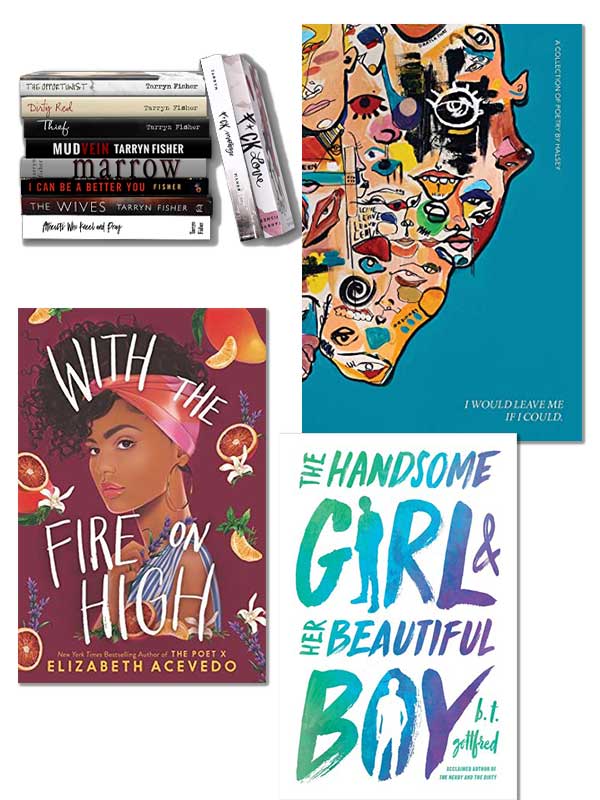 Any book every written by Tarryn Fisher is worth your attention. She writes about flawed character, about fierce women, about love, desolation, redemption… She published two books in 2020: The wives (who is being adaptated into a) and The wrong family.
Halsey (yes… her again. What can I say..?) published a book of her poetry: I would leave me if I could (oooh Lord, if only I could leave me sometimes…). She writes and that's how she began to be a song-writer as well. This book is beautiful. I wish there were some of her artwork to accompany some of the poems but I am maybe too demanding (she created the cover, by the way).
With the fire on high, by Elizabeth Acevedo is a beautifully written story of a high school young woman finding her passion and following it even though she lives with her abuela and raises her daughter while still going to high school. It reminded me why I loved cooking in the first place and that a choice is a choice.
The Handsome Girl & Her Beautiful Boy is a story I am still thinking about now and then, months after reading it. This story by B.T. Gottfred tells the connection shared by Zee (who everyone assumes is a lesbian) and Art (who everyone assumes is gay). Discovering who you are, accepting not to fit into what other perceives from you and navigating the tough feelings that come with it left me with a lot of emotions. It's wonderfully written.

Music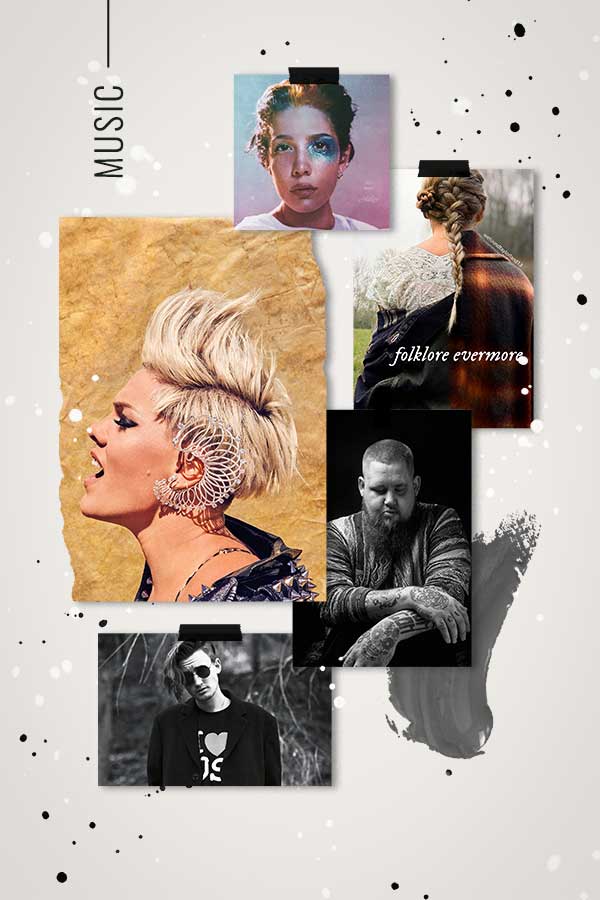 I won't lie, I am smitten with the two albums Taylor Swift released, Folkore and Evermore. She is a master storyteller and this new sound rocked my world.
For the third time (I know I know…) in this post, I have to tell you that Halsey's album Manic is everything. It's her first album that's not really a concept album. Angry, sad, hopeful, in love, petty, there is such a varied range of emotions expressed in this.
Alicia Moore, aka P!nk, is a woman I admire on many levels. She came out with various collaborations in the past year, one being with her daughter Willow. I have seen her performing live and this is an experience that made me want to become a roadie just to be part of her team 😉 Something I will never forget.
The past year was difficult. And I have to admit that I tend to equally listen to music that will lift my mood up, AND music that will fit the sadness… that's how I ended up discovering more songs by Gnash than the ones usually playing on the radio.
Rag'n'bone has such a deep soulful voice… Oh, and he has a song with P!nk called Anywhere away from here that I highly suggest you give a listen.

Food/Kitchen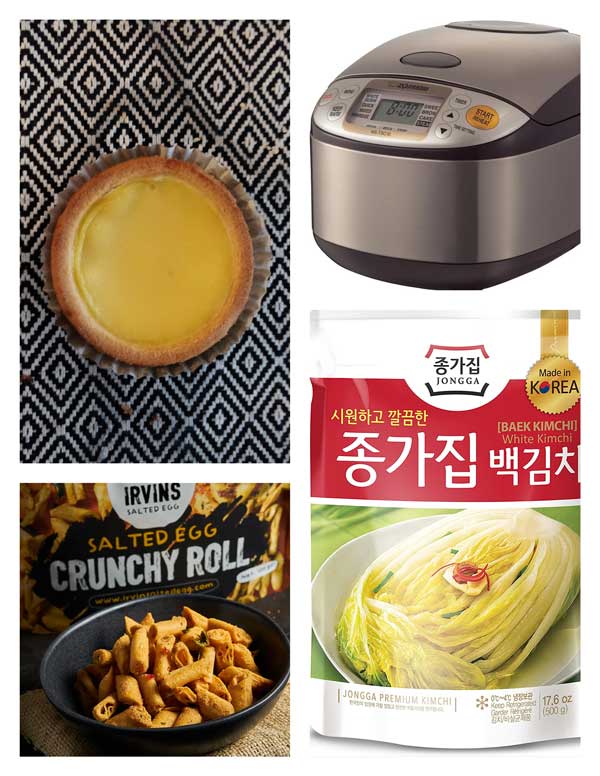 Egg tarts from Saint-Germain bakery. Don't be fooled by the store name though, they have nothing french 😀 Saint-Germain is a Canada-based award-winning bakery. They have surprisingly good pastry and savoury asian buns as well. They sell three different types of egg tarts: Portuguese (pasteis de nata), regular crust and flaky crust. My favourite ones are the regular egg tarts because the crust is buttery and does not take over the taste of the filling. I am the only one who likes them at home so I do not have to fight 😉
Salted egg rolls snack… ok, this is very weird, I know! But now that we have so many asian stores around, I feel like I have to be more adventurous in what I test. This was a very good surprise actually. I had no idea what to expect, and it usually is the best way to go when trying something new. This is salty (duh), a little sweet, and highly addictive!
Baek kimchi. You probably already know about that korean staple that is kimchi. "Baek" means "white" and this type of fermented food is actually older than its hot red counterpart because it was created before the chilli powder now used was introduced to Korea. This is salty, crunchy and refreshing. I eat it like a snack, I put it with rice, with other veggies… Mae (my almost 16-year-old daughter) loves it as much as I do. Next step: making it myself!
My new Zojirushi rice cooker (I went for the NS-TSC10 model, 5.5 cups). My previous rice cooker lasted for about a decade, but it was time to throw it out and get a new one. Some people could live off only eating pasta every day, for me it is rice. The rice is fluffy and perfect every time I use it. It does not take a lot of counter space so I can live it out instead of inside a cupboard.
Please note that some of the links above are affiliate links. If you purchase through them, I will receive a small financial compensation that helps this blog stay alive. Thank you.