Jamie Ridler has this little magical thing that helps everyone around her, even via the internet or over the phone, to feel beautiful. I am not talking about body beauty here, but about this light lying right there near your heart. Don't tell me it's not true because deep down, you know I am not lying.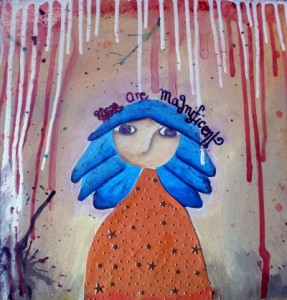 During Circe's Circle, each of us met this special part of ourselves, our Magnificent Selves. There is no word that would describe this experience and do it justice.
I know now that She needed to blossom and needed me to acknowledge her. This resonates with what Jo Anna Rothman told me earlier this year during an intuitive reading: I shouldn't be afraid of letting my Light shine, it won't eclipse anyone; it's the contrary actually. The lights of each of us, combined, just brighten the World even more.
And as an awesome coincidence, Anu, one of my Circe's Circle Sister, shared with me this meaningful quote by Marianne Williamson, quote I discovered while watching the movie "Akeelah and the bee" (one of my favourites !) about our fear to be powerful; and it is the fear of our light and not the one of our darkness, that is holding us back. Right when I needed this reminder.
Now, you may think I'm going totally crazy. Maybe I am 😉 I'm just not afraid anymore to show it.
I was affraid of it for too long. And I know I am not the only one fearing success, fearing the light, fearing the good inside because so much used to see only the darkness. And what if we kick this fear out and just accept that yes, we ARE magnificent beings ? Would you try with me, please ?
This artwork was inspired by what I experienced during Circe's Circle with Jamie. You can't see it, but the hair are filled of beautiful deep blue sparkles, hard to capture with a camera.
She is available for sale, on my RedBubble page. Right there. You can buy it as a print on several supports, as a card and so much more.
The original is for sale too, email me for more information about it if interested.