I love Donna Downey's work. I wait for Wednesdays for two reasons: Jamie Ridler's wishcasting prompt, and Donna Downey's Inspiration Wednesday art journaling video.
In her shop, Donna sells some fabric handmade journals she calls inspiration journal. She creates in there everything that helps her being inspired. I love it. She also recorded a lesson where she teaches how to create these journals ourselves. That's how I learned.
Recently, I acquired Tchoo, my sewing machine. I love her very much but she's not my BFF yet, she's not that easy peasy.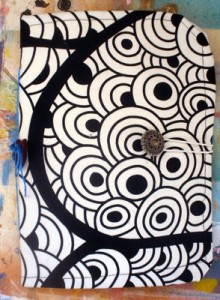 So I created my first Inspiration Journal. Yaaaay !
It was sometimes hard, for example to pull back the fabric+canvas sewn together to be the right side out because my canvas is very stiff. I have to find a way for it to be more movable. Any ideas ?
And I had to do with what I had on hands: my grommets were too big so I used simple eylets, I wasn't able to use ribbon so I used thread. That's okay, I like it like that. And I didn't find any fabric covered button, I bought some beautiful ones instead.
My sewing is not the best yet, it's zig-zagging here and there. The corners of the journal are kind of weird too.
So what ? I love it ! I have imperfections too.
I'll don't let the canvas inside blank. I don't know if I'll paint it, or play with my new obsession (the Lindy Stamp Gang products).
I'll finish my current art journal and then start this one. i love the fact I can add signatures as needed. It has inclusions. It will be awesoooooom !
In the next one, I want to try to create a loop for my pen; and another closure like a flap.
So many ideas I want to experiment; this is good.
I wish you a wonderful week ahead.