Hello Gorgeous !
If you are a "fan" of Inner Voices on Facebook, you already know I received my Sketchbook for the Art-House's Sketchbook Project 2012 last week. I hesitated about signing up for this year but seeing all the great sketchbooks at the exhibit in Seattle and knowing they will stop in Vancouver this time, I could not really resist.
This year, my theme is "Monochromatic". Despite what I thought, it can open many creative doors.
Last year, I looked online for ways to rebind the sketchbook. Until this year, they sent us a small Moleskine, and i was not confident enough to take it apart and do something by myself. But this year is different. They changed the journal and the pages were simply stapled together with the cover. Easy to pull out. So I kept the cover and get rid of the too thin pages (I kept them to make something else with it, though.)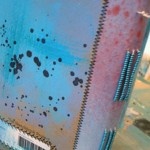 The cover is very nice. And as I have to keep the bar code I wanted to stick with it.
I SO wanted to record the whole process but that day my camcorder's battery was dead and as it what it is, it takes hours to be useable. And I was too excited to wait for the next day (when inspiration strikes, I try not to shut it down). So sorry, but you'll have to do with only pictures.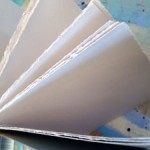 I used Stonehenge paper, 90lbs, the fawn color (which is like a warm greyish beige). It is smooth, not too thick nor too thin. I created three signatures of three folios each so it is manageable for me to fill it completely. It was ready long before I actually received the sketchbook itself.
I separated the front and back covers, I painted them very simply. I used self-adhesive book-tape (bought at Paper Source) that I sprayed with shimmery mists. I love the kraft-y look of the cover so I did not entirely paint it, by doing that, some of the original color can still be seen in some spots.
I took care of lining it well so there is the right space for the text block, cover the inside with another piece of sprayed book-tape (a contrasty color this time).
Then, I wanted to secure it. So i machine sewn it. SO. MUCH. FUN !!! I decided to sew around the barcode as well, to be certain it won't go anywhere while handling the journal.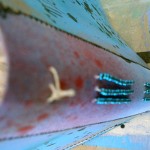 Finally, I attached the pages to the cover with a simple long stitch, but I noticed in Seattle that we see the spine where all the books are patiently waiting to be picked so I wanted to make it more attractive. We are advised not to hang anything so I just put some pretty beads. It adds a nice little touch.
I had a blast rebinding it, and it was intuitive, each step coming easily after the other in my mind. I love how it looks, with all its imperfections.