Hello shiny You !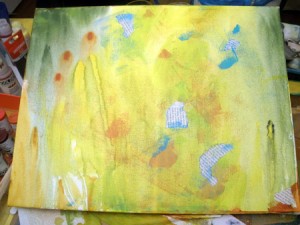 I wanted to share a little bit about what I mean by "my new creative process" in the last few blogposts I wrote.
As I told you, I now start by painting entirely my canvas instead of looking for a precise idea, drawing it on the canvas and then filling it with colours. And then, the magic happens: I start "seeing" something beyond. It can be a shape, a face, whatever. I don't fight it by thinking "you're are totally CRAZY my dear"; it reminds me when I look at the sky until I find a shape in the clouds, I love to do that, even at 25 !
"Listening" is what changed everything. Listening to my Intuition, to the Muse, to what the painting has to express, to the Universe maybe; they all eventually whisper something in my Soul while my hands are moving creating.
The picture above shows what the underpainting looked like. At first, I was seeing birds and mountains. Until face clearly appeared, it was so strong that I couldn't look at the canvas without seeing it clearly there. I just had to follow 🙂
Here is the painting now: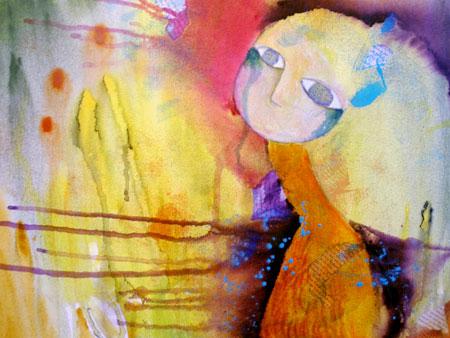 In person, her hair are as bright as the yellow green in front of her, the picture does not do it justice. I realize that She's like wrapped up by a sea of… of what ? tiny little Souls that never let her alone ? Love it !
There is something missing, something I don't see yet. More than just the words. But I absolutely do not worry: it will eventually  come to me.
I'll share what's next with you (oh and I am planning on writing a long boring post explaining why my Girls do not have a mouth; it's a rocky debate with friends and my mom and my older daughter ;-)).