When I'll finally dare making a video tour of my Teal Studio, you will see how much «old» paintings I have around. Waiting to be reworked.
This is how this painting started. I started by rolling some white acrylic paint over with my brayer, but leaving some of the color showing through here and there. It brings such a good feeling of freedom. Starting anew.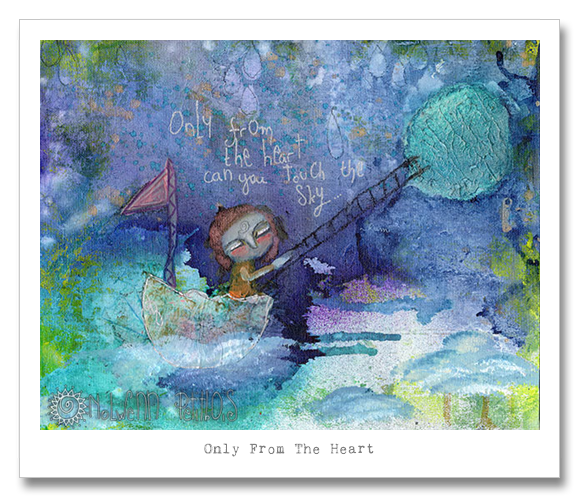 Lately, I have been thinking a lot about where I want to go. With my career as an artist. With my family life. With my body image. Which lead me to this realization: I can get there only by sticking to a CREATIVE DAILY PRACTICE. And with something that feels huge to me: SURRENDER.
This painting was totally me being in the flow and going with what was there, and making it work (any of you who tried to paint over this amazing Midnight color of Dylusions spray knows this is a biatch and so damn hard to do anything on top. Love it, still, but learning along the way. Thanks Samie Kira for the tip ;)).
She was in her boat, and her cloud was actually a wave when I began painting it, but then it became a cloud and then another one appeared, and another one. They are subtle and I like that.
You can't see, but the Moon is filled with nice silver fine glitter.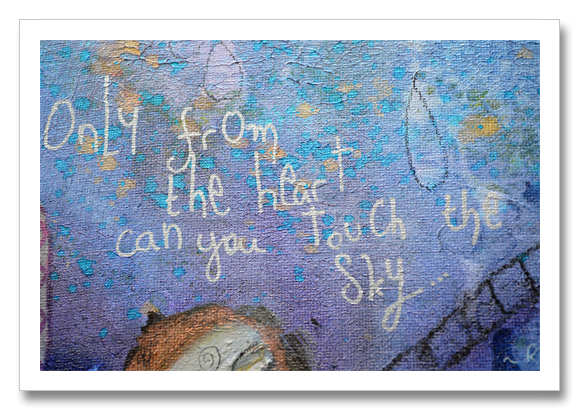 This Nixie is looking for a new loving home: go to my shop for more infos.