Hello darling sunshines !
I really have to go back into my regular scheduling in blogging. I have so many things to share but spend so less time on my computer…
Here is the painting I am currently enjoying working on. It is on 9″x12″ canvas board (trying to figure out the best to finally sell some originals as well, without having to ask for expensive shipping fees):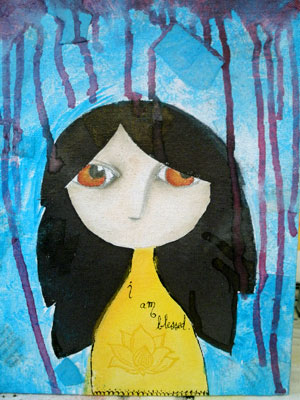 I actually hate the background how it is now. There is something off about it. But is is okay because I will start over and cover it up, will see what happen then ! I learned to love every single step of the creating process, even when I actually don't like what is happening.
If you look closer, you will see the lotus on her body. We can see it better in reality than on the picture but it is subtle.
I am playing with faces, trying to make them express something. But they are still kind of blah. So I practice. However, I like her.
What are you creating right now ? does not have to be a painting, i would love you to share with me in the comments if you'd like <3