Hey there ! I'm happy you liked the first edition of this new blogposts serie. You know how much sharing is something I love doing. In this second edition, I am sharing about the current Art Journal I am using, the use of stencils everywhere, and more.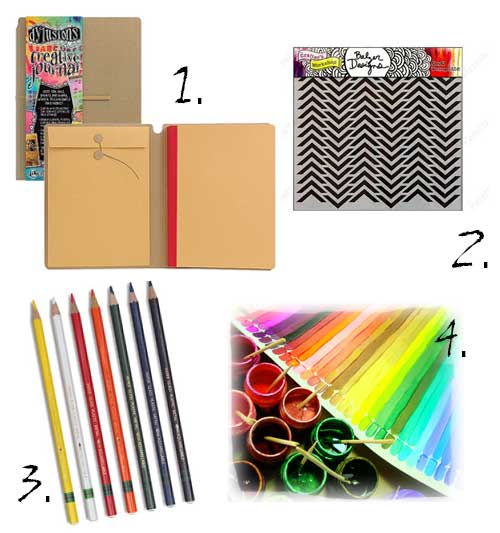 The Dylusions Art Journal, by Dyan Reaveley for Rangers

I discovered Dyan a few years back, as we were both in the same Art Journal Round Robin group (not the best experience but grew a lot from it however). I then noticed she had a pretty big shop in the UK and became a customer. At this time, Dyan was selling ink sprays and paints exclusive to her brand, and I quickly fell in love with them (some of these sprays are now available under the big brand Ranger, but not the paint. Maybe in the future, who knows…).
Recently, she released a beautiful art journal (still under the wings of Ranger.
Here is their «technical» description of it:

• Ideal with Dylusions Ink Sprays, Stencils and Stamps
• Sturdy cover, elastic closing and string-tie envelope included
• 64 pages of unlined white matte cardstock
• Sturdy cover, elastic closing and string-tie envelope included
• Cover measures 11 13/16″ x 9″; book pages measure 11 3/8″ x 8 1/4″

And it really does take spray (heavily applied) very well !!
It is quite thick though, so it may take a while to finish filling. But that is a good thing for me, who tend to work in several supports at the same time, as my friend Melissa told me when I showed it to her «you have to commit to it !», this is why I put that word on my front cover, as a reminder to actually finish what I start.

Stencils from The Crafter's Workshop

It is not a secret that I absolutely love stencils. In my art journal, as in my paintings. AND now in cards I create too. Everywhere.
My go-to brand is The Crafter's Workshop. They have original, fun, symbolic even stencils that I can use for my background (because this is the most use I have of it, but this is just me, though. Backgrounds are AS important as what is coming on top of it).
Each stencil comes in both 6×6″ and 12×12″. Which is perfect for both art journaling and paintings.
I love using them with different media: spray ink/paints obviously, but also with paint and a make up sponge, with an ink pad and a mak up sponge, with PanPastels… and more.
They have artists designing some of the lines, and of course my favorite ones are created by Julie Fei-Fan Balzer.

Stabilo «All» Pencil

This is my «go-to» pencil when I create. I use the black all.the.time. 
These pencils are watersoluble, so I use the black to outline and then shade with my acrylic paint.
I recently bought the brown pencil for my faces and I am hooked.
As a Mixed Media artist, I always am on the look out to find the tools that will work on all kind of textures, on all kind of surfaces. And this pencil is the only one that does that job for me.

Silk Paints by Luminarte

I discovered this paints online but tried them only a few months ago, when I attended a workshop with Finnabair in my local scrapbook store. She used plenty of Luminarte products (their pigments, the Silk glazes etc). 
You probably have heard about the H2O watercolor cakes, that are highly shimmery and loved in the art community.
These are glazes, which means they are partly transparent and are not opaque colors.
I am still playing with it, and I know there are a lot of possible uses for it that I don't know.
I may take one of the classes from Jodi Ohl or Dion Dior to learn how to better use them. But for now, I love them for their bright shimmer and gorgeous colors.
NOTE: this is not a sponsored blogpost; however, if I have an affiliate account with one of the products I share, I use the affiliate link to it. Also, this only states my point of view.